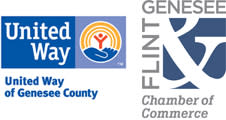 (FLINT, Mich. – April 6, 2015) Two well-known leadership development programs serving Flint and Genesee County have merged to become one. Leadership NOW! – Optimizing Leadership Effectiveness is a comprehensive program for the region's emerging, high-potential leaders working in the public, private and nonprofit sectors.
 Leadership NOW! combines the strengths of the Flint & Genesee Chamber of Commerce's Leadership Alliance and the United Way of Genesee County's BEST Nonprofit Leadership Institute (BNLI) under one roof to create an intensive development program for people to positively impact the region through inspired leadership. Designed for individuals who want to develop their professional leadership skills and give back to the community, Leadership NOW! targets executives, board members, department heads, elected officials, emerging leaders and influencers who have experience in either the private, public or nonprofit sectors. Participants must reside or work in Genesee County.
 "Flint and Genesee is on the move, and the goal of Leadership NOW! is to help nurture the professional growth of the women and men who will lead our region forward," said Tim Herman, CEO, Flint & Genesee Chamber.
 Jamie Gaskins, CEO, United Way of Genesee County, added: "By merging two outstanding programs into one academy, Leadership NOW! will deliver a greater impact to boost the leadership capacity in our community."
 Participants accepted into the program will undergo an in-depth analysis of their leadership potential, receive individualized coaching, complete a collaborative project and participate in peer networking opportunities. The program will offer three distinct leadership development models of instruction: Navigating & Connecting Community; Optimizing Leadership Effectiveness; Winning with Innovation for Executive Leaders.
 The application process for Leadership NOW! – Optimizing Leadership Effectiveness is underway. It begins with attending a free, hour-long information session about the program. This is a required step where prospective applicants will learn about the program objectives, time commitment, curriculum and the individual leadership assessment process. However, attending an information session does not commit an individual or grant acceptance into the program.
 The dates of the Leadership NOW! – Optimizing Leadership Effectiveness informational sessions are:
All sessions will be held at the Mott Foundation Dining Room, 519 S. Saginaw, in Flint.
The application deadline is 3 p.m. May 21. Applicants will be notified of acceptance on May 29. Class size is limited to 15 students with sessions scheduled to begin June 25 and June 26.
Leadership NOW! – Optimizing Leadership Effectiveness will convert the participant's commitment and passion for Flint and Genesee County into innovative ideas and collaborative know-how, creating sustainable community-based projects.
"Participants will be better equipped to positively impact the organizations and initiatives with which they're connected," Gaskins said.
Herman agreed. He added: "This program will foster an improved sense of community and greater ownership of Genesee County's challenges and opportunities."
For more information about Leadership NOW!, contact Jenni Dones at jdones@unitedwaygenesee.org or 810.762.5822, or Michelle Hill at mhill@flintandgenesee.org or 810.600.1423.