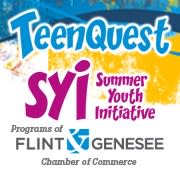 The Flint & Genesee Chamber of Commerce's TeenQuest/Summer Youth Initiative (SYI) program is a finalist for the Regional Innovation Award, sponsored by the Association of Chamber of Commerce Executives (ACCE). The program is one of four selected for the prestigious award.
TeenQuest and SYI are companion programs to improve the employment prospects for teens in Flint & Genesee. TeenQuest is a free afterschool pre-employment and leadership training program that teaches area teens important skills that employers demand. Teens that successfully complete TeenQuest are eligible to participate in the SYI Job Fair and obtain summer employment. TeenQuest and SYI are generously funded by the C. S. Mott Foundation along with other grants.
A panel of judges comprised of previous ACCE award winners and ACCE board members selected the four finalists, out of a total of 21 applicants. The winner will be announced during the ACCE's Annual Convention in Montréal, August 11-14.
The other three finalists are:
Aviation Triad, Greensboro Partnership (N.C.) Aviation Triad, a coalition of partners in the Piedmont Triad region, developed a multi-dimensional marketing initiative to grow the skilled workforce and create a sustaining support system for aviation and advanced manufacturing companies in the region.
The Great Start Collaborative of Traverse Bay, Venture North/Traverse City Area Chamber Foundation The Great Start Collaborative of Traverse Bay, jointly sponsored by the Traverse City Area Chamber Foundation/Venture North and the Traverse Bay Area Intermediate School District, convenes leaders in all community sectors to promote collaboration in local early childhood systems that support family health, childcare expansion, and early literacy projects.
Fix North I-25 Business Alliance, Fort Collins Area Chamber of Commerce The Fix North I-25 Alliance works with government at all levels to secure funding for expanding North I-25 to three lanes, communicates the economic importance of a functional I-25 corridor, and empowers businesses and the public to get involved.
The Regional Innovation Award program recognizes organizations committed to building strong and vibrant communities through groundbreaking collaboration and program development. The program celebrates organizations that are regional pioneers, focusing their efforts on the four principles of regional stewardship: an innovative economy, livable communities, social inclusion, and a collaborative style of governance.
"To help their communities address challenges and seize opportunities, chambers of commerce must convene diverse stakeholders and develop new strategies," said Mick Fleming, ACCE president. "The finalists of the 2015 Regional Innovation Award exemplify the highest levels of civic entrepreneurship and economic stewardship."