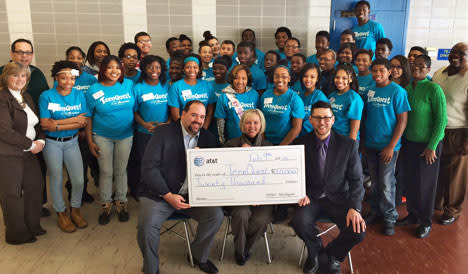 (FLINT, Mich., Feb. 10, 2015) – The Flint & Genesee Chamber of Commerce TeenQuest program received a $20,000 grant from AT&T during an event this week at Southwestern Classical Academy in Flint.
The grant, offered through the AT&T Aspire Program, helps support the integration of the TeenQuest program into high schools where the Chamber's YouthQuest program is offered.
"The AT&T funding helps us to not only blend the two programs together, but also helps to enhance teens' experiences, exposing them to emerging fields, local skills gaps, in-demand jobs, training resources, and college and vocational preparation that guides them on a pathway to employment," said Rhetta Hunyady, Vice President of Education and Training at the Flint & Genesee Chamber, which administers the TeenQuest and YouthQuest programs.
Previously offered only to elementary and middle school students, the YouthQuest afterschool enrichment program was expanded to include grades 9-12 for the first time in the 2014-15 school year. It now serves more than 2,000 K-12 students in 18 area schools.
TeenQuest is a five-week training program designed to help Flint & Genesee high school students ages 14-18 prepare for business success in the future. Students learn the basics of teamwork, business etiquette, work ethics, communication, goal setting and conflict resolution.
"I was impressed with the TeenQuest program back when I was a teacher in Flint schools, but I'm even more impressed now," Senate Minority Leader Jim Ananich told the high school TeenQuest students during Monday's check presentation. "What you've shown today – your eye contact and confidence –  these skills will help you the rest of your life.
"People want to see that you are going to work hard and that you're serious. You're not just preparing for college or a job, you're preparing for life."
TeenQuest is a pre-requisite for employment through the Summer Youth Initiative (SYI), which matches employers with hundreds of TeenQuest graduates for summer employment.
Students attend the TeenQuest program two hours per day after school, Monday through Thursday, over the five-week period.
AT&T looked at different programs throughout the United States when awarding the grant, said Brian Norman, AT&T Director of External Affairs.
TeenQuest was a natural choice, Norman said.
"At AT&T, education is one of our founding principles," he said. "We support programs that connect students to success. In every way, the TeenQuest program does that."
Nonprofit organizations and businesses that hire TeenQuest graduates are eligible to have 50 percent to 100 percent of costs subsidized. Last summer, more than 600 students ages 14-18 were employed through SYI, the Michigan Department of Natural Resources, the Workforce Investment Act (WIA) and some for-profit businesses.
For more information about TeenQuest, contact Hunyady at rhunyady@flintandgenesee.org or (810) 600-1404.
About the Summer Youth Initiative and TeenQuest
The Summer Youth Initiative is a program that helps Flint-area teens find paid summer jobs. It's open to students who've completed the TeenQuest afterschool program, which provides pre-employment and leadership training to students ages 14 to 19 to help them succeed in college and the 21st century workplace. In 2014, 630 teens gained experience and a paycheck working for 21 local businesses and agencies. Both programs are administered by the Genesee Area Focus Fund, a supporting organization of the Flint & Genesee Chamber of Commerce, with support from the Charles Stewart Mott Foundation. To apply or learn more, visit www.flintandgenesee.org/teenquest.