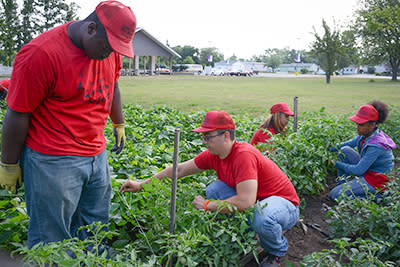 The Flint & Genesee Chamber of Commerce is offering a summer session of TeenQuest at two sites in Flint, July 7-31. The summer session will run from 1:00 to 4:00 p.m., Monday through Thursday, at Baker College of Flint and New Jerusalem Church.
TeenQuest is a pre-employment and leadership training program for Genesee County high school students, designed to help them develop the necessary skills to prepare for a job, get a job and keep a job.
Teens must be in the 9th -11th grades during the current school year to be eligible for the summer session. Students currently in the 8th grade who going into the 9th grade in the fall, are not eligible for the summer session but are encouraged to apply for the after school sessions that begin in September.
Students who successfully complete the program are eligible to apply to the 2015 SYI Job Fair, and have access to other employment opportunities throughout the year. More than 500 TeenQuest graduates secured summer jobs with area nonprofit agencies through the SYI Job Fair in 2014 and with the Michigan Department of Natural Resources teen summer employment initiative.
To qualify for the Summer TeenQuest program teens must:
Attend high school in Genesee County (public, private, charter, alternative, home school);
Currently be 14-18 years old and in grades 9-11 (must meet both age and grade levels in the 2013-14 school year);
Be willing to commit to attend the program three hours per day, Monday-Thursday, over a four-week period;
Bring a positive attitude and a goal of successfully completing the TeenQuest Program.
To apply, complete the application and return it to:
TeenQuest C/O Flint & Genesee Chamber of Commerce 519 S. Saginaw, Suite 200 Flint MI 48502