Recently, FirstMerit-Michigan in partnership with the Flint & Genesee Chamber hosted a Regional Leadership Forum. The featured speaker was Doug Rothwell, President of Business Leaders for Michigan, who presented an update on Michigan's Turnaround Plan.
About 75 business and community leaders had a great opportunity to see the presentation and think about implications for Flint and Genesee County.
In addition to presenting a scorecard, Doug talked about the work we need to do to become a Top 10 state. For example:
Build a competitive economic climate
Build strong regions – it's important that we pool our assets together to compete against the powerhouses
Look at potential for shared services across the state
Grow and leverage our assets
Invest in infrastructure, talent, K-12, higher education
Focus on our core strengths and we can grow jobs faster
Become a more welcoming state and grow our cultural understanding
Not a lot of surprises here, right? That's because we are working on these very things right here in Flint and Genesee County; and I had a chance to speak briefly with the group about Flint and Genesee County's progress.
Like most urban areas across the state, we have our challenges. But, there's also a great deal of positive momentum.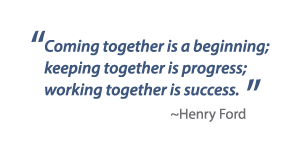 Through leadership, vision and strategy we have achieved a strong, competitive business climate. We are seeing major investment and jobs; and through a recent Regional Wage & Benefit Survey, 86 percent of companies said they expect to add new jobs this year.
We're one of the fastest growing college towns in America with over 30,000 students enrolled in area colleges and universities. In fact, the University of Michigan-Flint alone reports a 38 percent growth in enrollment over the past decade.
We have made significant reinvestment in downtown Flint. In fact, we just experienced a phenomenal grand opening of the Flint Farmers' Market emporium. Over 17,000 people visited throughout the day. And the momentum has continued since the opening.
In addition, we continue to expand regional leadership. Our region is collaborating with neighboring regions to form strong partnerships. The I-69 International Trade Corridor partners – which include Genesee, Shiawassee, Lapeer and St. Clair counties – have been successful with its regional marketing and formation of the state's largest Next Michigan Development Corporation, which has 36 municipal partners. The group is now preparing to develop a four-county plan for economic development.
Most recently the Corridor expanded beyond the four counties of Genesee, Shiawassee, Lapeer and St. Clair to include Tuscola, Huron and Sanilac counties in the Thumb area as part of the State of Michigan's Regional Prosperity Initiative. The combined economic development activities of these seven counties will broaden the larger region's ability to leverage transportation assets, attract new businesses and spur economic growth.
Through our rebranding initiative we are working to shift perceptions of Flint and Genesee County by showing the great amenities, strengths and assets that we offer. We are also just starting to look at options to build a Global Flint & Genesee web hub that supports our recruitment of international visitors, students and businesses.
So what does all of this mean? It simply means that our strategy is working. As we take a look back over the past three years, our region has made tremendous strides.
Our region's ability to collaborate and form effective partnerships is something that we can all be proud of; and it will be key to our continued success.
Tim