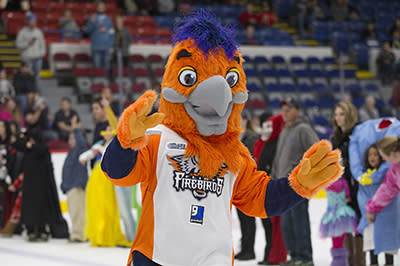 February 24, 2016
The Dort Federal Event Center can comfortably seat 4,400 hockey enthusiasts. And if all goes well, it will be a full house on March 2.
As part of a fundraising partnership with the Flint Firebirds, more than 500 YouthQuest students have been invited to attend the Flint Firebirds v. Saginaw Spirit game next month. What's more, the afterschool enrichment program will receive a portion of the proceeds for every ticket sold $15 or higher using the promotional coupon YQUEST.
You can help by purchasing a ticket and spreading the word, said Rhetta Hunyady, Vice President of Education & Training at the Flint & Genesee Chamber of Commerce, which administers the afterschool enrichment program.
"This is a great way to show your support for the students in the program," Hunyady said. "We're hoping to see a lot of familiar faces at the arena next Wednesday."
To purchase tickets for the game, which begins at 7 p.m., click here.
YouthQuest is a high-quality, research-based afterschool program offering educational and enrichment activities that engage young minds. The program serves more than 2,000 students in grades K-12 throughout Flint and Genesee County.
The program is administered by the Genesee Area Focus Fund, a supporting organization of the Flint & Genesee Chamber of Commerce, with support from the Charles Stewart Mott Foundation and 21st Century Community Learning Centers.
For more information, visit www.yquest.org.