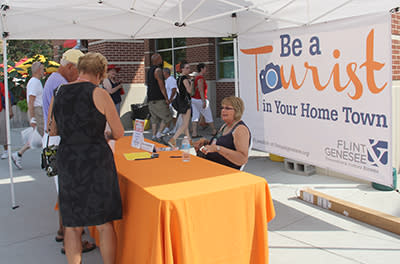 June 29, 2016
Summertime is in full swing in Flint & Genesee, and the roster of interests has a strong outdoorsy flavor throughout July.
The month starts with a bang – with fireworks displays in Flint (July 1), Clio (July 4) and Fenton (July 4) – and stays hot. Midway through on July 16, local residents (and non-residents) are invited to "Be a Tourist in Your Home Town."
Sponsored by the Flint & Genesee Visitors and Convention Bureau (CVB), Be a Tourist is a one-day excursion that allows "tourists" to visit and enjoy more than 25 different venues in Flint and Genesee County for a buck.
Your ticket to discovery is the "passport," which may be purchased online here or picked up at Flint's downtown Riverfront Banquet Center on the day of the event. The passport is also valid for discounts at many restaurants in downtown Flint's entertainment district.
Complimentary transportation between venues will be provided by co-sponsor Mass Transportation Authority.
Participating 2016 venues: Applewood, Buick Gallery and Research Center, Edible Flint Demonstration Garden, Flint Children's Museum, Flint Farmers' Market, Flint Handmade Summer Arts & Crafts Street Fair, Flint Institute of Arts, Flint Public Library, Food Bank of Eastern Michigan's Hunger Solution Center, For-Mar Nature Preserve and Arboretum, Emflower, Genesee County Gospel Festival, Greater Flint Arts Council, Knob Hill Bed & Breakfast, Longway Planetarium, MTA Downtown Transportation Center, Michigan School for the Deaf, Sloan Museum, Stockton Center at Spring Grove Museum, Superintendent's Cottage, Whaley Historic House Museum, The Whiting and more.
"Be A Tourist is a great day-trip package for both residents and non-residents of the area," said CVB Director DeAndra McCain. "I encourage everyone to take advantage of this awesome opportunity.
"And be sure to check out some of the other happenings in Flint & Genesee during the month of July."
Events and activities for July: