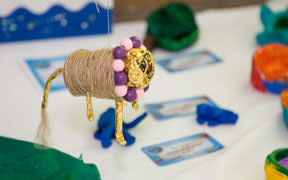 (FLINT, Mich., March 26, 2014) -- "Full STEAM Ahead" is the theme of this year's ArtQuest exhibition, incorporating the multi-media art created by YouthQuest students with an opportunity for students and visitors to participate in hands-on STEM projects.
 ArtQuest is an annual exhibition of the Flint & Genesee Chamber of Commerce YouthQuest afterschool program. The art exhibition is open to the public on Tuesday, April 1 and 2 from 3:00 p.m. to 7:00 p.m., and April 3 from 3:00 p.m. to 6:00 p.m., in the atrium of the Diplomat Specialty Pharmacy Building, 4110 S. Saginaw Street in Flint.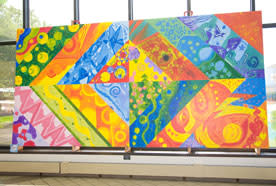 Featuring works from more than 1,600 YouthQuest students, the exhibition showcases more than 500 pieces of artwork including drawing, painting, sculpture, murals and fiber arts. New this year is the pairing of Science, Engineering Technology and Math (STEM) activities with the art. Students from 12 YouthQuest schools will participate in the three-day event, experiencing each other's artwork and participating in make-it-take-it activities provided by the Michigan Science Center. The public is welcome to participate in the STEM projects as well.
"Creativity is one of the building blocks of child development and learning," said Rhetta Hunyady, Vice President of Education & Training. "YouthQuest provides an enrichment experience designed to enhance students' motor skills, language development, visual learning, inventiveness and cultural awareness. Thousands of YouthQuest students contribute to ArtQuest and the results are always amazing."
YouthQuest students are introduced to the fine arts through partnerships with vendors such as the Flint Institute of Arts, Flint Institute of Music, Tapology Dance Studio, Sphinx and the Kearsley Park Players.  In addition to vendor-taught arts, YouthQuest Learning Guides are trained in arts education and implement lessons as part of the regular YouthQuest curriculum.
YouthQuest is a free after school program that reaches more than 1,600 K-8 students at 12 school-based sites in Flint and Genesee County managed by the Chamber. For more information about ArtQuest contact Rhetta Hunyady at (810) 600-1412 or visit www.yquest.org.
About YouthQuest
YouthQuest is a high-quality, research-based afterschool program offering educational and enrichment activities that engage young minds. Available at 15 sites in the city of Flint and Genesee County, YouthQuest serves 2,000 students in grades K-12 each year. The program is administered by the Genesee Area Focus Fund, a supporting organization of the Flint & Genesee Chamber of Commerce, with support from the Charles Stewart Mott Foundation and 21st Century Community Learning Centers. For more information, visit www.yquest.org.