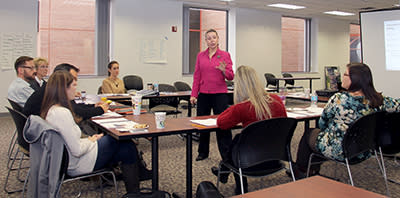 The number of alumni of the Flint & Genesee Chamber of Commerce Shared Services Leadership Alliance increased by eight members on January 23, as a second class of students earned the distinction of "Shared Service Architect."
It is the second graduating class of the two-year-old program that provides individuals with training in a variety of areas to improve the operational proficiency of public-sector organizations in the region. Participants attain the knowledge and skills to develop, initiate and sustain collaborative and shared service projects. The six-month program includes one full-day session and a one-hour coaching session per month.
Professionals and experts from the public and private sectors lead each session.  Session leaders and facilitators are experts in the fields of leadership and collaboration. In all, each student receives about $2,500 in organizational development training and coaching.
"We think this is an outstanding program that supports the revitalization and expansion of our region," said George Wilkinson, Director of Operations for the Flint & Genesee Chamber. "High-caliber public-sector organizations are crucial to growing and sustaining vibrant communities. The Leadership Alliance seeks to nurture individuals who can lead those organizations effectively."
A key aspect of the course-work is the completion of a shared services project by two-person teams to gain practical knowledge. One of this year's projects focused on streamlining the tax assessment and collection processes for municipalities.  Another team designed a meet-the-buyer program for public school districts to connect educators with service providers that can meet their needs.
This year's graduates are:  Jamar Baker, Financial Advisor for Edward Jones; Cindy Carnes, Genesee County Purchasing Manager; Gale Frase, Vice President of Administrative Services, Ennis Center for Children, Inc., Dustin Frigy, Operations Manager, Michigan Defense Center; Kristina Johnson, Grants Manager, Flint & Genesee Chamber; Kali Lucas, Community Relations, Diplomat Specialty Pharmacy; Derrick Mathis, Regional Manager, U.S. Senate; and Paula Nas, Grand Blanc City Council Member.
Last year's inaugural class comprised 10 professionals from throughout the region.
The Shared Services Center is operated by the Chamber and was conceptualized by a coalition of community leaders from Flint and communities throughout Genesee County.  The next session convenes in the third quarter of this year. Look for additional details in a future issue of Inside Business.
To learn more about the Leadership Alliance, contact Michelle Hill at mhill@flintandgenesee.org or (810) 600-1423.