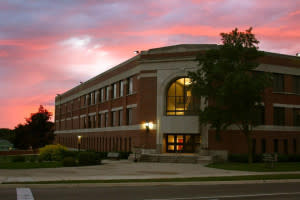 Photo credit: Kettering University
While many people know that Kettering University is home to the Michigan Small Business Development Center, not everyone is as aware of the school's Business Administration department.
Gabrielle Hoag, a Kettering senior majoring in business administration, aims to change this through her research thesis, "Entrepreneurship Needs: An Outreach Project to Benefit the Community while Increasing the Awareness of the Business Department at Kettering University."
As part of this thesis, Gabrielle is researching the unmet needs of Flint's entrepreneurial community, which will allow the business department to make more informed decisions about the type of resources (i.e., workshops, consulting) offered to area businesses and entrepreneurs.
Her thesis has also influenced the creation of a new course, called Business Design Consulting. As part of the class, which kicks off this fall, students in the program will provide free consulting services to area businesses.
"The success of this thesis is based on the longevity of the resulting programs," Hoag said. "We looking at partnerships with different community organizations that will help us grow and sustain our efforts."
In the meantime, Hoag is collecting survey responses from local business owners via Survey Monkey. To complete the survey, available through mid-September, click here.