(FLINT, Mich., Jan. 23, 2014) -- Give us your best shot! The Flint & Genesee Chamber of Commerce is now accepting submissions for its 2014 SEE Photography Contest.  New this year, the contest will become an annual event, versus a monthly competition, allowing photographers to capture the best of Flint & Genesee over a 12-month period, according to Sherry Thompkins, Director of Marketing for the Flint & Genesee Chamber of Commerce.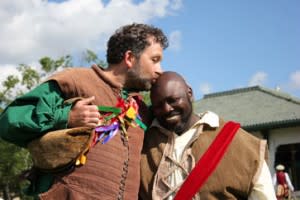 "We want people to share with us what they love about Flint & Genesee County, and have some fun with it!" said Thomkins.
She encourages photographers to "Show us the faces and places that illustrate every aspect of living in this place we call home. Go outside!  . . . to festivals, concerts and events. Go inside! . . . to favorite places to take kids, meet friends or celebrate with family. Show us your bowling team, soccer team, running club, cycling group or your favorite fall walking trail."
The rules are simple: Photos must be taken within the county lines and photographers may only submit photos they have personally taken. Images that have been heavily altered or manipulated will not be accepted.  It is acceptable to color balance and crop if doing so reflects the scene as observed.
Amateur and professional shutterbugs are encouraged to participate. Entrants may submit up to five photos each. The deadline is December 31, 2014 at midnight. There is no entry fee. See complete contest rules.  Photos from all camera types are welcome!
Winners will be determined by a panel of professional photographers and prizes will be awarded for first, second and third place winners. The first place winner will receive $300, with second and third place winners receiving $150 each.
Winners will be announced to media and posted on the Chamber web site and facebook page at SEE What's Possible.