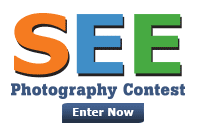 The SEE Photography Contest has been revamped for 2014. New this year, the contest will become an annual event instead of a monthly competition.
According to Sherry Tompkins, Director of Marketing for the Chamber, the new format allows photographers to capture the best of Flint & Genesee over a 12-month period.
"We want people to share with us what they love about Flint & Genesee County, and have some fun with it!" said Tompkins.
Amateur and professional shutterbugs are encouraged to participate. Entrants may submit up to five photos each. The deadline is December 31, 2014 at midnight. There is no entry fee. See complete contest rules.  Photos from all camera types are welcome!
Winners will be determined by a panel of professional photographers and prizes will be awarded for first, second and third place winners. The first place winner will receive $300, with second and third place winners receiving $150 each.
Winners will be announced to media and posted on the Chamber web site and facebook page at SEE What's Possible.