August 31, 2016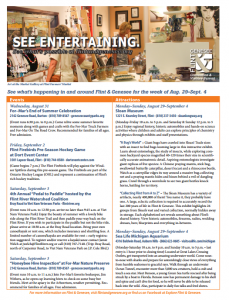 See what's happening in and around Flint & Genesee for the Labor Day weekend.
On Friday, Sept. 2, the Flint Firebirds face-off against the Wind­sor Spitfires in a pre-season game. The Firebirds are part of the Ontario Hockey League (OHL) and represent a continuation of Flint's rich hockey tradition.
On Saturday, Sept. 3, the Flint River Watershed Coalition will host the 4th Annual "Pedal to Paddle." Enjoy the beauty of summer with a lovely bike ride along the Flint River Trail and then paddle your way back on the Flint River.
(Trip: Bray Road, north of Carpenter Road, to Viet Nam Veterans Park on J.P. Cole Blvd. Event runs 10 a.m. to 12:30 p.m. arrive no later than 9:45 a.m. at Viet Nam Veterans Park.)
If you wish to participate in the paddle but not the bike ride, please arrive at 10:30 a.m. at the Bray Road location. Bring your own canoe/kayak or rent one, which includes insurance and shuttling fees. A limited number of canoes/kayaks are available for rent – early registra­tion recommended.
To register and/or reserve a kayak/canoe contact Jamie Welch at jwelch@FlintRiver.org or call (810) 767-7140.
For this week's complete 'See Entertaining' bulletin, click here.