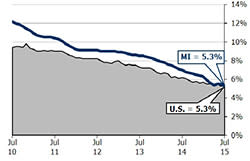 September 2, 2015
Flint & Genesee saw a slight uptick in the number of unemployed from June to July, according to the most current data from the Michigan Bureau of Labor Market Information and Strategic Initiatives.
"The rise was mostly due to some auto-related layoffs that are seasonal in nature and a normal July pattern," said Kevin Doyle, an economic analyst for the Bureau.
The number of unemployed persons rose from 11,700 to 12,500 from June to July, pushing the unemployment rate up slightly from 6.3 percent to 6.8 percent in Flint & Genesee.  However, there are still fewer unemployed persons compared to the same period in 2014 when the rate stood at 9.3 percent with 14,900 out of work.
The unemployment picture in Flint & Genesee "is following the statewide pattern of trending downward," Doyle said.
The statewide unemployment rate declined from 5.5 percent in June to 5.3 percent in July 2015, and has fallen from 7 percent a year ago.