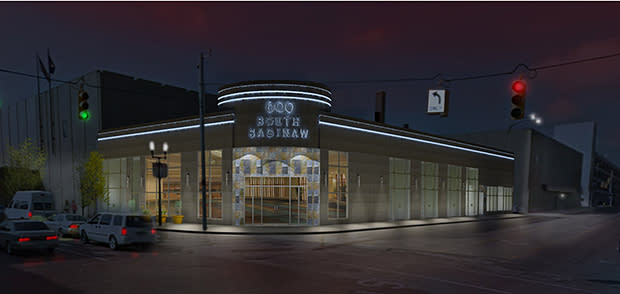 Artist rendering - Earthwise Design
The effort to renovate vacant property at 600 S. Saginaw St. under the state's Obsolete Property Rehabilitation Act (OPRA) has been given the green light. The redevelopment project, led by Uptown Reinvestment Corp., will transform the property into eight storefronts with separate entrances for small businesses.
The OPRA request, approved July 15 by Flint's Receivership Transition Advisory Board (RTAB), will freeze property taxes at the site for 12 years. Once the renovation is completed, the project is estimated to create 10-25 jobs and generate from $1,872 to $4,617 annually in income tax revenue for the City of Flint.
The project seeks to meet a demand for smaller storefront space in downtown where there are few options available. Tenants for four of the eight storefronts have already been secured, with solid prospects for the remaining spaces. The presence of more employees and foot traffic could help boost the area's overall attractiveness for commerce and investment. The Dryden Building directly across from 600 S. Saginaw St. is currently undergoing a major renovation as well.
URC President Tim Herman called the RTAB's decision "a huge step forward."
"That approval was fundamental," he told Mlive/Flint Journal.
The building formerly housed a Perry drugstore. The renovation work will begin in August and will be finished in about three months.