August 31, 2016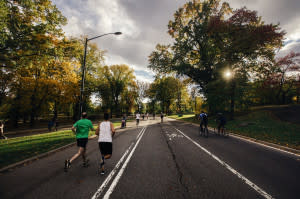 Registration is underway for the 2016 Commit to Fit: Fall 4 Fitness Challenge. The annual challenge – which kicks off Oct. 1 and runs through Oct. 31 – calls on employees of area businesses, organizations and community groups to complete just 35 minutes of physical activity a day.
To earn points, individuals can track their activity at commit2fit.com. For easy entry, participants can also sync their wearable fitness device or favorite mobile apps to the website.
Organizations that have the highest levels of participation and average minutes of physical activity will receive trophies and additional raffle chances per person for cash prize drawings. For individuals who reach the challenge goal of 1,000 minutes of physical activity, incentives will include $2,000 in cash prizes, wearable fitness devices, memberships to local fitness center and gift certificates.
Commit to Fit! will host free fitness and nutrition classes throughout the challenge, which can be found online at commit2fit.com.
If your company is interested in participating, complete the online commitment form and identify a company point person, who will be asked to attend a coordinator meeting in early September to receive additional challenge details.