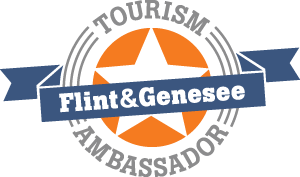 March 16, 2016
Think you know all there is to know about Flint & Genesee? Great!
Now, let's put it to the test by becoming a Certified Tourism Ambassador (CTA). Registration is underway for the April 13 class. Register now.
The Flint & Genesee Convention and Visitors Bureau CTA program teaches frontline professionals in the hospitality industry as well as community volunteers the finer points of how to welcome and showcase the region to out-of-towners. That's important because visitors who have a positive experience are more likely to return in the future and share their experience with others.
Prospective CTAs will learn about: The Power of Tourism; Discovering Flint & Genesee; Knowing, Finding, Using Resources; and Exceeding Customer Expectations. The coursework includes required reading, a half-day classroom session and an open-book test. There is a one-time application fee of $30 per person and an annual renewal fee of $15 per person.
"It's a fun and interesting way to learn more about Flint & Genesee while expanding your professional network," said CVB Director DeAndra McCain. "We're well on our way to reaching our goal of training 500 CTAs this year. But we're not there yet. So if you've been thinking about becoming a CTA, now's a good time to sign up."
Upcoming Classes:
Wednesday, April 13 (Must register by Thursday, March 31)
Wednesday, May 18 (Must register by Thursday, May 5)
Hotels, attractions and organizations that have Certified Tourism Ambassadors™:
Flint & Genesee Chamber of Commerce
Flint Cultural Center Corporation
Best Western Davison Inn
Sloan*Longway
On the Town Magazine
Flint Youth Theatre
The Whiting
Mott Community College

Flint Spark Volunteers

Americas Best Value Inn & Suites

Holiday Inn Gateway Centre
Digital Medics
Flint Institute of Arts
Knob Hill Bed & Breakfast

Floradora

VanDyke Photographers and Video Media Production

Cumulus Media
Hampton Inn & Suites
Village Printing, Inc.
Riverfront Banquet Center
Mount Morris Consolidated Schools
Wells Fargo Advisors
Baker College of Flint
Porter's Orchard Farm Market and Cider Mill
Artistic Visions Enterprise
Flint Institute of Music
Gerych's Special Events and Floral Designs