December 16, 2015
The second session of Leadership NOW – an intensive, yearlong leadership development program for professionals who work and/or live in Genesee County – will begin March 17. Recruitment sessions will be held in January, with program organizers planning to accept up to 20 participants.
"We're looking for local executives, volunteers and board members who want to make an impact in our region," said Michelle Hill, Director of Shared Services at the Flint & Genesee Chamber of Commerce, which administers the program in partnership with United Way of Genesee County.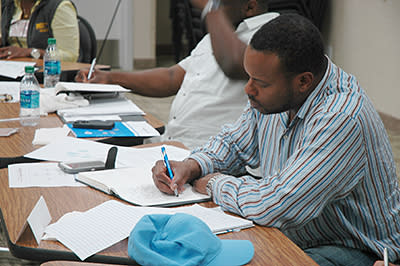 As part of Leadership NOW: Optimizing Leadership Effectiveness, participants will undergo an in-depth leadership assessment, 10 hours of one-on-one coaching and 72 hours of training on subjects, such as accountability and conflict resolution. To graduate, they must develop and implement a collaborative project that addresses a challenge in Flint and Genesee.
"The participants will be tasked with building relationships and facilitating collaborations that help reduce costs and/or improve procedures and processes for area organizations," Hill said. "By learning about and developing their individual leadership styles and networks during the training portion of the program, these professionals will be well equipped to meet this challenge."
Applicants are required to attend one of six recruitment sessions, to be held at the Chamber offices, 519 S. Saginaw St., in Flint and the Community Foundation of Greater Flint, 500 S. Saginaw St. Upcoming dates include:
•     Jan. 7, 4-5 p.m. (Community Foundation)
•     Jan. 8, 11:30 a.m.-12:30 p.m. (Chamber)
•     Jan. 11, 4-5 p.m. (Community Foundation)
•     Jan. 13, 11:30 a.m.-12:30 p.m. (Community Foundation)
Applications are due Jan. 29.
For more information, or to register for a recruitment session, contact Renée Boals-Peel at 810-600-1451 or rboals-peel@flintandgensee.org.