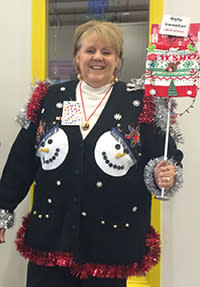 'Tis the season for ugly sweaters! The Region 6 PTAC will host its second quarterly networking event on Dec. 4 at the Flint & Genesee Chamber of Commerce, 519 S. Saginaw St. The fun begins at 8:30 a.m.
The event, which begins at 8:30 a.m., is more than just opportunity to mingle and socialize. It's also a chance to show off your poor taste in holiday sweaters while creating pathways for potential joint ventures with your fellow government contractors. Register Now.
News about PTAC's remaining programs and events for the 2015-2016 fiscal year will be featured in upcoming issues of Inside Business.
For more information, contact the Region 6 PTAC at sbetts@flintandgenesee.org or visit flintandgenesee.org/ptac.