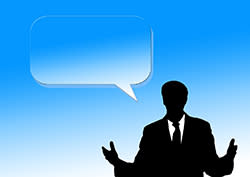 September 2, 2015
Sometimes it's not what you sell, but why you sell, that matters to consumers. The ability to explain that "why" to the right people can be critical in maximizing your marketing efforts, according to Tonya Acha, a certified trainer with the Referral Institute.
"I have one client – an estate planning attorney – who is very passionate about working with faith-based families," Acha said. "And by finding networking organizations that are more faith-based, he's able to share his story with people that have similar philosophies when it comes to family, faith and community. It's all about finding that synergy, the same mindset."
During the "The Power of Storytelling" on Sept. 17, Acha will expand on how business owners and professionals can identify what their stories are as well as how they can utilize that information to build better client and referral relationships.
In the end, it really comes down to being human.
"Good storytelling is where there is an emotional connection to you and why you do what you do," Acha says. "Bad storytelling lacks that connection because it's all about getting the sale."
The free event will be held from 8-9 a.m. at MLive's Flint office, at 540 Saginaw St., Suite 101.
Reservations are required to attend. A light breakfast will be provided. To register, visit www.flintandgenesee.org/events/mlive.
"The Power of Storytelling" is part of the Chamber and MLive's collaborative Mornings @Mlive Media Group series. Future sessions include "The Benefits of Local Collaboration" on October 18.
Want more information?
Check out these articles that may prove helpful as you run your business, provide leadership tips and strategies or spur creativity in your organization. The articles were selected from a variety of publications and websites such as Fortune, Inc., Fast Company, New York Times and Wall Street Journal.
7 Tips for Great Storytelling as a Leader
5 Tools Every PR Pro Should Be Using to Measure Storytelling Efforts
How Storyboarding Can Foster Employee Engagement