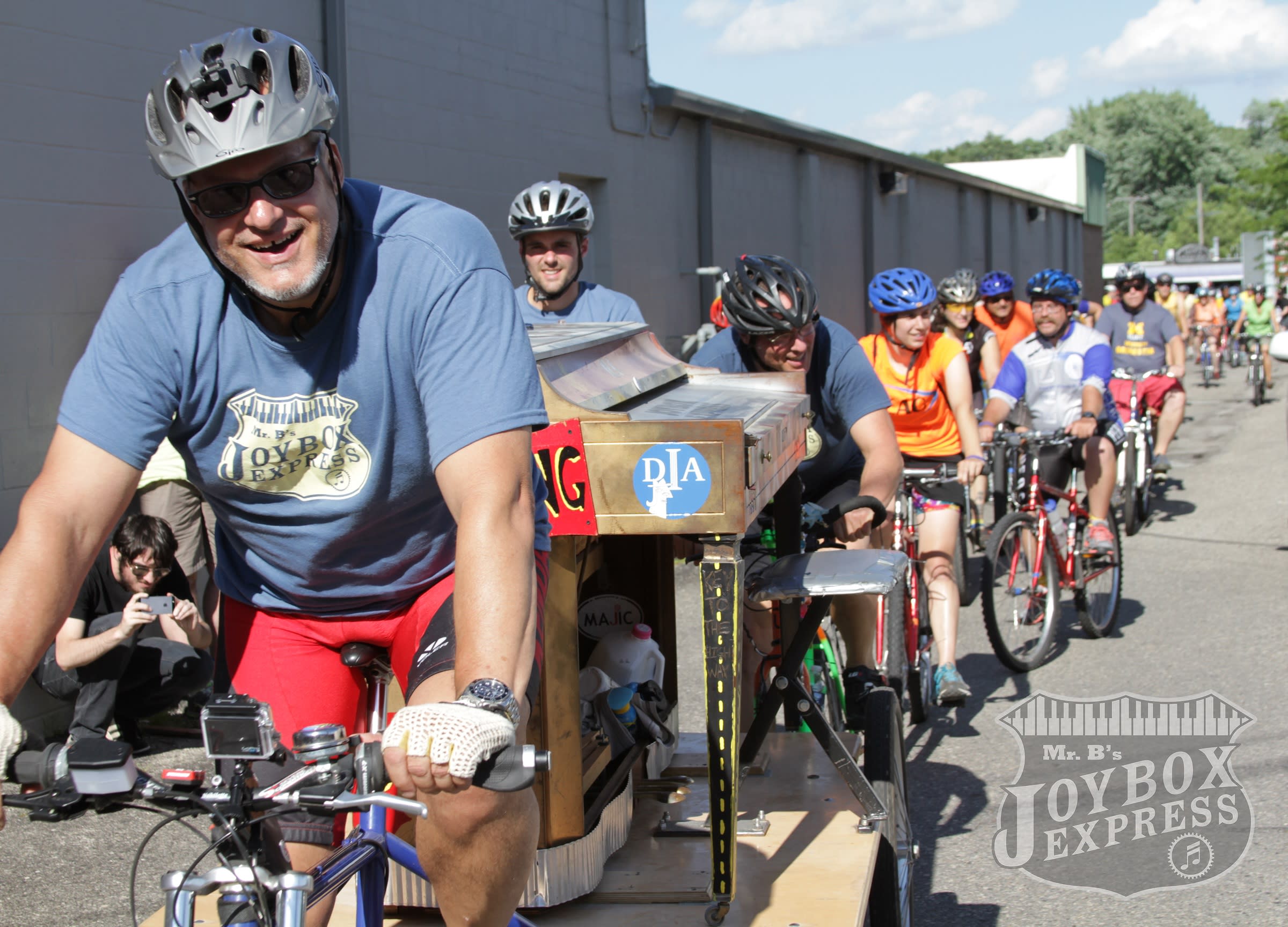 Yearlong 'Sprint 4 Flint' Fundraising Campaign to Benefit YouthQuest Afterschool Program
(FLINT, Mich. – Aug. 19, 2016) An Ann Arbor-based nonprofit is launching a yearlong fundraising campaign that will benefit the YouthQuest After School Initiative and culminate with an especially unique journey – one that involves transporting a 385-pound piano on a tricycle built for three from Flint to Mackinac Island.
The "Sprint 4 Flint: Ride, Swim, Play…Give" project is the latest from Mr. B's Joybox Express, which raises awareness for charitable organizations by taking its custom-made piano bike on the road – powered by a trio of cycling musicians. The new project will benefit art programming provided through YouthQuest, an afterschool and summer program that serves more than 2,000 students in Flint and Genesee County each year.
"We are tremendously excited to benefit a program that has such a positive impact on youth in my hometown of Flint," said Mark Braun, Founder and President of Mr. B's Joybox Express. "Our goal is to support organizations that enhance children's lives through arts and athletics – something that YouthQuest does on a regular basis. We look forward to bringing more awareness to YouthQuest, and plan to have plenty of fun while doing it."
The "Sprint 4 Flint" ride will kick off August 24, 2017, when Braun and his team will depart Flint with the goal of reaching Mackinaw City within 24 hours. They will be accompanied by guest cyclists who will join them for either portions of or for the entire ride. Braun, an internationally renowned blues and jazz musician, will play piano spontaneously along the way.
After reaching Mackinaw City, event organizers will transport the piano bike to St. Ignace, where it will be loaded onto a small barge. Soon after, Jim Dreyer, a Grand Rapids-based, world-record holding swimmer, will join Mr. B's Express to help swim/tow the instrument to Mackinac Island.
"We are grateful to be included in Mr. B's newest project," said Rhetta Hunyady, Vice President of Education & Training at the Flint & Genesee Chamber of Commerce, which administers the YouthQuest afterschool program. "The arts play a key role in fostering creativity and critical thinking, and physical fitness is an important aspect of achieving lifelong wellness. What better way to inspire our youth than by showing them what's possible when you combine the two."
According to Hunyady, the funding will help support YouthQuest's art programming – a core part of the program's curriculum – as well as ArtQuest 2018. The annual art exhibition, held each spring, will feature more than 2,000 pieces of student-created artwork revolving around the theme of physical fitness.
Over the next year, Braun's team will focus on spreading awareness about "Sprint 4 Flint" and the YouthQuest program. Cyclists and/or swimmers who are interested in participating can register for the event at www.JoyboxExpress.com and are encouraged to distribute pledge forms to friends and family
For more information or to make a donation to YouthQuest, visit www.joyboxexpress.com/donate. To learn more about YouthQuest, visit www.yquest.org.
MEDIA CONTACTS:
Elaine Redd Flint & Genesee Chamber (810) 600-1418 eredd@flintandgenesee.org
Izzi Joseph Flint & Genesee Chamber (810) 600-4071 ijoseph@flintandgenesee.org
Stephanie Hale Mr. B's Joybox Express (734) 277-9501 halestephanieann@gmail.com
About YouthQuest
YouthQuest is a high-quality, research-based afterschool program offering educational and enrichment activities that engage young minds. Available at 15 sites in the city of Flint and Genesee County, YouthQuest serves nearly 2,000 students in grades K-12 each year. The program is administered by the Genesee Area Focus Fund, a supporting organization of the Flint & Genesee Chamber of Commerce, with support from the Charles Stewart Mott Foundation and 21st Century Community Learning Centers. For more information, visit www.yquest.org.