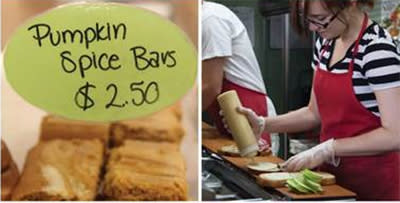 (FLINT, Mich. – Oct. 1, 2015)  Starting or expanding your food-oriented small business can be more than just a dream. If it is your desire to earn the rewards of your culinary skills by launching your food-based business or taking an existing operation to the next level, then this event is for you.
The Flint & Genesee Chamber of Commerce and the eTEAM can provide the tools and steps necessary to get your business moving in the right direction. The expo will provide an array of information from labeling and licensing, to where products can be sold and much more.  Participants will have a chance to meet and hear about eTEAM member organizations, and community resource partners will be available to provide all kinds of business start-up assistance.
The Mini Expo will be held Oct. 7, from 5-7 p.m., at Hasselbring Senior Center, 1002 W. Home Ave.
"We're supporting the growth of a vibrant cottage industry in this community," said Janice Karcher, Vice President of Economic Development for the Flint & Genesee Chamber. "A lot of people have home-based food businesses. Many of them have the potential to grow and to start adding the jobs.
"The Mini Expo will help these entrepreneurs understand the potential for growth and the available resources should they want to grow the company in that way."
The speakers include: Sean Gartland, Culinary Director, Flint Food Works/Flint Farmers' Market; Marsha Lyttle, Regional Director, Michigan Small Business Development Center at Kettering University; and Abron Andrews, Loan Coordinator for Metro Community Development.
 The expo is free, but registration is required. Space is limited. Click here for online registration.
The Chamber's eTEAM is a regional collaboration of entrepreneurial service providers working to connect local entrepreneurs and small businesses with resources to promote growth and success. The eTEAM member organizations include:  MI-Small Business Development Center (MI_SBDC), Michigan Works! and Metro Community Development in addition to many other service providers.
For questions, please contact Karena Hamlet at khamlet@flintandgenesee.org.