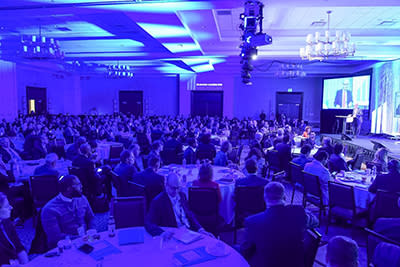 November 30, 2015
Michigan's economic future is threatened by a lack of cohesion behind a common strategy for growing the economy and prioritizing investments in areas that will improve the state's overall competitiveness such as education and training beyond high school, innovation and assets and economic development according to panelists presenting at the CEO summit hosted by Business Leaders for Michigan (BLM) in Detroit.
An audience of 500 senior leaders from the fields of business, policy, education and advocacy gathered at the Westin Book Cadillac for updates and discussion related to Michigan's economic growth.
"Thanks to major policy changes since 2009, Michigan's economy has experienced a surge of growth that has outpaced nearly all other U.S. states," said BLM President and CEO Doug Rothwell. "However, our progress in absolute terms is still very low compared to our peers. If we want to attract fresh talent and new employers, we need to make absolutely sure the value Michigan offers is worth the cost of locating here."
Event participants reviewed BLM's 2015 economic benchmarking report as part of the day's activities. The full report is available online, along with a dynamic website that allows users to interact with data by choosing the time periods, regions, and components they wish to view.
BLM's report shows Michigan has succeeded in stabilizing the economy, lowering key business costs, and becoming more competitive.
"This is good news, but it's not good enough," he said. "While we've gotten back on the road to prosperity, other states have been investing in their economic assets too, making it even more difficult for Michigan to catch up."
Rothwell said while output indicators like employment, income and GDP have improved substantially in recent years, they began to slow somewhat during 2014.
"If Michigan is to evolve beyond its old, cyclical economy, we must innovate to add value in other key areas," Rothwell said. "While Michigan has reduced business costs considerably, we need to do much more to excite the interest of site selectors and talented younger workers."