November 4, 2015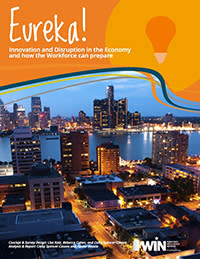 Leading-edge technologies, including 3-D printing and automated products, have dramatically altered how businesses and workers shape the economy.
The Workforce Intelligence Network for Southeast Michigan (WIN) released a report on Oct. 20 about the economic and workforce-related effects of today's disruptive technologies and trends, known as "Eureka!" technologies, based on survey results from a sample of over 230 Michigan company leaders in various industries, including health care, IT, and manufacturing.
From new computer installation for staff, to creating new products that require patents, WIN's report shows that 75 percent of surveyed businesses have implemented a new technology or pioneered a new way of doing business within the past year. With each new technological change or innovation, the workforce must adapt and respond to stay competitive in the new economy.
"More education and specialized technology training are increasingly important for incoming hires," said Lisa Katz, executive director, WIN. "As Eureka innovations continue to enter the market, it is imperative that companies, educators, and students work closely together and continue to create a prepared and skilled workforce that will keep Michigan's economy forward moving."
Nearly half of survey respondents believe that technology advances will have no impact on employment levels in the next five years. However, the majority of respondents do believe that worker productivity will increase due to the fast pace of technological change and the ever-more-connected world, which will enable workers to do more in less time.
"Workers will not be replaced by technology, but technologies will require more interaction among workers to foster communications and group work skills," said Katz. "With new technology infusions, current workers will also need related upskilling to stay on par with technological advances."