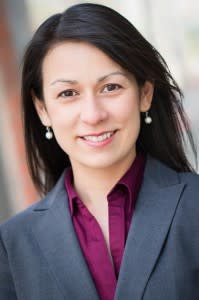 Christie Wong, CEO of Mac Arthur Corporation
When Christie Wong, CEO of Mac Arthur Corporation was appointed to the U.S. Department of Commerce Manufacturing Council in March, she saw it as an opportunity to help provide a voice for small manufacturers across the country.  The expertise gained from serving as the CEO of an organization with a 50-year history in manufacturing enabled her to provide a unique perspective.
In September, Wong was named by the White House Administration to serve on the President's Council of Advisors on Science and Technology through the Advanced Manufacturing Partnership Steering Committee 2.0 (AMP 2.0).  The new appointment offers an additional platform to provide input that will inform public policy that impacts manufacturers like Mac Arthur.

"It's an honor to serve my country through participating on the President's Council," said Wong.  "As part of the Department of Commerce Manufacturing Council and the President's Steering Committee, I serve alongside CEOs from much larger corporations, as well as university and public sector leaders.  I appreciate the opportunity to provide insight from the perspective of small and mid-sized manufacturers."
According to Wong, identifying and addressing the barriers to growth for manufacturing in the United States is an important part of the council's work. She says a healthy manufacturing ecosystem and robust supply chain are critical to encouraging U.S.-based manufacturing.  Keeping pace with new technology, accessing capital and connecting to a broader supply chain are also necessary elements that will help U.S. manufacturers compete globally and grow new areas of business, explains Wong.
"We are optimistic about the future," said Wong.  "Mac Arthur's challenges parallel those of similar companies across the country.  By having a vision that includes investing in our people, capabilities and technology we are working to keep pace and excel in a competitive environment. Sustaining and growing U.S. manufacturing is a focus at all levels of government (national, state and local).  The good news is that the input provided through the Manufacturing Council and AMP 2.0 Steering Committe should help inform and guide future policies that will improve opportunities for U.S. manufacturers, both large and small."
Grand Blanc-based Mac Arthur employs almost 50 employees in Michigan, with plans to grow in 2014. Through investments in people, capabilities and technology the corporation is working to diversify beyond the automotive industry.  As a global manufacturer of custom labels, tags, decals and die-cut components for a wide range of consumer and industrial applications, MacArthur serves the automotive, technology, medical and consumer industries.  Learn more at macarthurcorp.com.