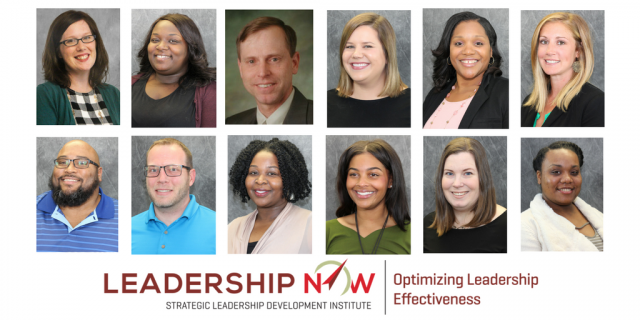 Leadership NOW – an introspective leadership development program led by the Flint & Genesee Chamber of Commerce and United Way of Genesee County – kicked off its fourth cohort earlier this month with a group of 12 high-potential leaders.
The participants represent a wide variety of current and emerging leaders who work and/or live in Genesee County and have experience in the private, public or nonprofit sectors. They include:
(Pictured: top row, left to right)
Katie Curnow, Grand Blanc, is the marketing coordinator at the Flint & Genesee Chamber of Commerce.
Ebonie Gipson, Flint, is the president and CEO of I'm Building Something Consulting, LLC.
Doug Hartwell, Fenton, is the program director at Sorensen Gross Construction Services.
Alison Kolodzy, Lansing, is the community school corps manager at Crim Fitness Foundation.
Shay Newell, Grand Blanc, is the program manager for Children's Protective Services at the Michigan Department of Health & Human Resources.
Valerie Popelier, Clarkston, is the organizational development manager at Diplomat.
Jason Rogers, Flint, is the program coordinator for 100 Men 100 Boys Mentoring at Big Brothers Big Sisters of Flint.
Nicholas Sievers, Clarkston, is an associate engineering manager at TIDI Products, LLC.
Tenesa Thompson, Burton, is the administrative assistant at WOW Outreach, Church Without Walls Ministries.
Ashnee Young, Flint, is the special events coordinator at Big Brothers Big Sisters of Flint and Genesee County.
Jenna Yuhase, Madison Heights, is the children nutrition program manager at Food Bank of Eastern Michigan.
Rebekah Willis, Flint, is a community member who volunteers with South Flint Tabernacle.
Over the next 10 months, the cohort members will participate in more than 100 hours of training, covering everything from developing followership to creating and implementing a vision. They will also receive several hours of personalized coaching, focused on honing their personal leadership styles.
To learn more about Leadership NOW, visit flintandgenesee.org/leadership-now.