(FLINT, MICH. – January 21, 2014) On Thursday, January 30 the Flint & Genesee Chamber of Commerce Procurement and Technical Assistance Center (PTAC) will host a Meet the Buyer event in partnership with the I-69 International Trade Corridor.  The event takes place from 9:00 a.m. to 1:00 p.m. at the Riverfront Banquet Center in downtown Flint.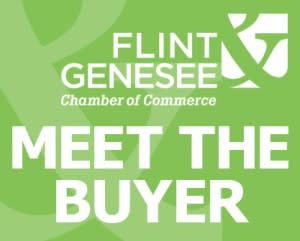 Purchasing agents representing public and private organizations from across the region will meet with potential vendors in a fast-paced, speed networking format.  Buyers will have 5 minutes to present their needs and then attendees will have 10 minutes to share the services or products that they provide and to ask questions.  Both the buyer and the vendor benefit from the opportunity to learn about potential business connections. Participating buyers represent both government departments and private businesses. (buyers list)
According to Janice Karcher, Vice President of Economic Development for the Chamber helping local companies and institutions find local suppliers is good for the region.
"Meet the Buyer provides a unique opportunity for businesses in Flint & Genesee," said Karcher.  "The great thing about this event is that it encourages local purchasing by connecting local businesses with potential customers.  By partnering with the I-69 International Trade Corridor we leverage the collective strength of the region to spur business growth."
To help companies maximize the Meet the Buyer experience, PTAC is hosting a free Pre-event Workshop.  The workshop takes place on Wednesday, January 22 in the Mott Boardroom at the Chamber offices at 519 S. Saginaw in downtown Flint.
Scott Rybicki, Small Business Program Manager for the Defense Logistics Agency in Warren says events like Meet the Buyer are important because they allow for candid discussions that you may not normally have during formal presentations or events.  He says even if a company cannot make a sale on the spot, they should use the knowledge they gain to plan for future success.
"In my experience, vendors can quickly figure out which buyers are a good match for them based on their capabilities and the buyer's needs," said Rybicki.  "Even if there isn't a good match for my current buying activity, I am often able to point the vendor toward another agency that may have an interest in their business."
According to Jenni Riehle, Vendor Outreach Coordinator in the Michigan Department of Technology, Management and Budget (DTMB) her department is looking for a broader range of Michigan-based vendors and events like Meet the Buyer provide a way to connect with local businesses.  She says the state is always looking to drive competition and an expanded roster of vendors helps keep costs low.
"I talk to hundreds of vendors, and knowing where your business can meet our needs is very important," said Riehle. "My department serves as centralized purchasing for the state and we manage more than 1,200 contracts covering everything from commodities and IT to services.  When a business takes the time to research the various departments and can come to me with a more specific presentation that definitely makes a difference."
To learn more about Meet the Buyer contact Andrew Hayes, PTAC Procurement Counselor at ahayes@flintandgenesee.org or (810) 600-1438.  The cost to participate in Meet the Buyer is $30 for Chamber members and $45 for non-members.  To register visit https://webdev.flintandgenesee.org/events/meet-buyer/.
There is no cost for the Pre-event Workshop, however registration is required.  Contact Chelsea Schutz, PTAC Procurement Technician at cschutz@flintandgenesee.org for more information.