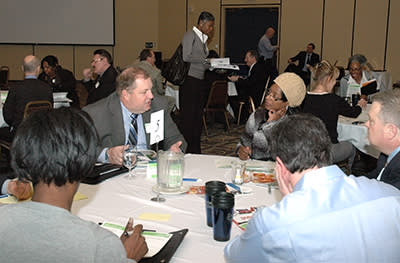 Meet the Buyer 2014
Selling yourself and your product can be a daunting task these days, and it seems as if potential buyers can smell fear when you show any uncertainty in your sales pitch. Thankfully, there is a way to get the practice you need when speaking with buyers during the Meet the Buyer event.
Now in its second year after an overwhelmingly successful launch in 2014, Meet the Buyer is a seminar that gives vendors a chance to present their product to over 20 potential buyers. The event is put on by the Procurement Technical Assistance Center of the Flint & Genesee Chamber of Commerce in partnership with the I-69 Thumb Region. This year's Meet the Buyer event will be held Jan. 29 from 9 a.m. to 1:30 p.m. at the Riverfront Banquet Center in downtown Flint.
The group of buyers is comprised of organizations from both the public and private sectors. Current confirmed buyers include:
Bishop International Airport
City of Flint
Consumers Energy
Department of Military and Veteran Affairs
Department of Veteran Affairs
Flint/Genesee Job Corps
Genesee County
Genesee County Drain Commission
Mass Transportation Authority (MTA)
Michigan Department of Technology, Management and Budget (DTMB)
Michigan Department of Transportation
Oakland County
U.S. Small Business Administration
University of Michigan-Flint
With more to come!
This year's event sponsors are Consumers Energy and VetBizCentral. A Continental breakfast and lunch will be served, and a special guest speaker will give an address over lunch. The cost is $30 for Chamber members and $45 for non-members. Registration will close Jan. 23 and spots are limited. Over 100 vendors attended last year, selling out all potential spots, so be sure to reserve your spot today!
Click here to register online or contact Andrew Hayes with the Chamber at 810.600.1438 or ahayes@flintandgenesee.org to sign up or for more information.