Manufacturing Day 2017 was a rousing success with 302 students participating in this year's event, which is designed to help change perceptions about today's manufacturing environment and highlight the outstanding opportunities in the field.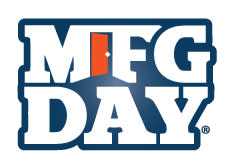 Now in its third consecutive year, local participation has grown steadily from 75 students who took part in National Manufacturing Day activities in the first year.
In addition, three new manufacturers joined the roster of sites for the 2017 program: Genesee Power Station, Miller Industries and Webcor. A total of 18 companies welcomed students from 10 high schools.
The other manufacturers were: Accu-Shape Die Cutting, Android Industries-Flint, Barrette Outdoor Living, Epic Technology Solutions, Fernco, Genesee Packaging, Knapheide Truck Equipment, Landaal Packaging Systems, Liberty Fabricating, Logofit, Pioneer Cabinetry, Rassini Brakes, Signarama, Signs by Crannie and TMI Climate Solutions.
Dan Crannie, owner of Signs by Crannie, said the event helps with awareness, which can improve talent recruitment over time. "People don't automatically think of signage as a career because they don't know what's behind that door when they see a building like ours," he said.
Liberty Fabricators' Owner Jack Hedrick agreed.
"People think that places like this don't exist," said Hedrick, whose company manufactures conveyor belts, structural steel components and custom parts. "But everything in the steel industry starts at a level like this this. There's everything from basic general, hands-on labor all the way up to high-tech welding to engineering to machining."
ShaCrai Johnson, a student at International Academy of Flint, said Manufacturing Day was a real eye-opener. "It opens up opportunity to show both genders that you can actually work here," said Johnson, who toured Liberty Fabricators.
"With manufacturing day, the biggest takeaway that I was happy to see is that there's so much more than working in the shop, working on a car, said Davison High School teacher Michael McCollum, who chaperoned students at Signs by Crannie. "There are different facets of engineering that a lot of people don't even think about.
"We've got a local business, such as Crannie, where it's not just engineering. You've got your accounting, your welders, your fabricators, your CNC programmers and graphic design people, where everything comes together under one roof. A lot of people don't even think about what goes into a business such as this."
The Manufacturing Day program included a facility tour; discussion of the types of job opportunities at the host company and within the industry; and opportunities to speak with staff responsible for different career areas, such as production, supervision, estimating, financial and engineering.
"Manufacturing Day is a call to action for our community," said Rhetta Hunyady, Vice President of Education & Training for the Flint & Genesee Chamber. "And we're thrilled that interest in the event here continues to grow."
[gallery size="large" columns="2" ids="32773,32774,32775,32777,32778,32779,32780,32781,32782,32783,32784,32785" orderby="rand"]