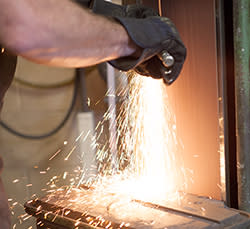 Local manufacturers have partnered with the Flint & Genesee Chamber of Commerce to broaden the image of manufacturing in the region and expand the talent pool for today's manufacturing careers. Founding members of the new Flint & Genesee Manufacturing Coalition will work to identify and secure resources for training programs, and strengthen growth opportunities for local companies while inviting other area manufacturers to get involved.
There are more than 300 manufacturing firms here, representing a broad range of categories and employing about 17,000 people.
"As the world knows, Flint and Genesee County has deep roots in manufacturing," said Tim Herman, CEO of the Flint & Genesee Chamber of Commerce. "Today, our local manufacturers represent a range of categories, from medical products to automation equipment, delivering innovative products and experiencing growth."
Founding members of the coalition are: Accu Shape Die Cutting; Android Industries; Automation Movers International; General Motors; Genesee Packaging; Koegel Meats; Landaal Packaging Systems; MacArthur Corporation; Northgate; Signs by Crannie; TGI Direct; The Coffee Beanery; and TMI Climate Solutions. Additional local manufacturers are encouraged to get involved.
The need for more manufacturing talent is a top priority and will be the focus of the June 11 Manufacturing Talent Workshop, which will bring together employers and educators to develop an action plan to tackle the unmet technical career openings in the area.
"Manufacturing is on the upswing with many of our local firms in a hiring mode," said Coalition Co-chair Jane Worthing, President and CEO of Genesee Packaging. "Nevertheless, it has become a challenge to persuade teens and young adults to train for technical and skilled trades' jobs that are in high demand."
Raising the profile of the product diversity and technical advances of the manufacturing sector in Flint & Genesee is another key objective of the coalition.
"We want to increase the visibility of our manufacturers and their products in order to strengthen supply chain and education linkages," said Jim Huff, CEO of TMI Climate Solutions and Coalition Co-chair.
The coalition will work with local companies and education partners to organize open houses to showcase various manufacturers as well as best-practice tours for fellow manufacturers. It is also planning a large-scale observance of national Manufacturing Day on October 2.
"Manufacturing remains a core strength of our region, even as the economy becomes more diversified," said Janice Karcher, Vice President of Economic Development for the Chamber. "We continue to support and grow this critical sector."