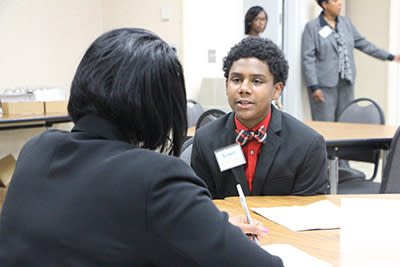 November 30, 2015
Is your business looking to fill part-time, entry-level job openings? Consider meeting with potential applicants by participating in TeenQuest's mock interview process.
High school students who attend the five-week workshop series are trained in a variety of employment and leadership skills, and are required to complete mock interviews to graduate from the afterschool program.
"By bringing in local employers and business professionals to conduct these interviews, our students gain important, real-world experience," said Rhetta Hunyady, Vice President of Education & Training at the Chamber, which administers the TeenQuest program. "In some cases, local employers have even hired students as a result of these interviews. It's a win-win situation for everyone."
Walmart is among the employers that have benefited from participating in the volunteer interviews – so much so that the retailer's Lapeer location has hired a number of TeenQuest grads to serve as associates.
"I was absolutely impressed with these young men and women I had the privilege to meet and interview during the TeenQuest program," said Mary Brandie McCabe, Co-Manager of the Lapeer store. "Each one conducted themselves in such a professional manner. They were some of the best interviews I have participated in."
The mock interviews are held five times a year, with the next session scheduled for Dec. 1 at the Baker College Technology Building, 1050 W. Bristol Road, in Flint.
Interviews run from 3-6 p.m. If you're a local employer or business professional interested in interviewing during any portion of this timeframe, notify Betty Gilcreast of your RSVP by emailing bettygilcreast@gmail.com or calling 810-397-8813.