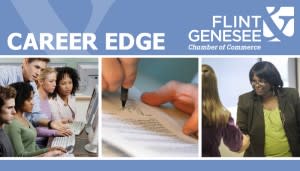 Designed to help adults prepare for the job market, whether new to the job market, returning to the job market or simply having trouble navigating the job market, Career Edge workshops give participants the skills needed to get and keep a job. The next workshops take place on Friday, November 22.  Interview Preparation and Keeping a Job take place from 9:00 a.m. to noon and 1:00 p.m. to 4:00 p.m., respectively. Career Edge is presented by Flint & Genesee Chamber of Commerce Education and Training.
Both workshops will be held at the Chamber offices at 519 South Saginaw Street in downtown Flint.
Cost for the program is $10 for students (high school and college) per workshop, and $15 for all others per workshop. Participants must pre-register and pay online at www.flintandgenesee.org/careeredge. Scholarships are available, contact Rhetta Hunyady at rhunyady@flintandgenesee.org for information.