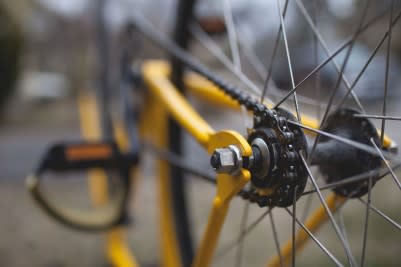 April 27, 2016
As the inaugural Leadership NOW cohort nears the end of the year-long leadership development program, the team members have one final requirement to complete: to execute a sustainable, collaborative community project.
Using the name MorphACTion – which stands for "movement that rebuilds pride and hope through art and culture in the city of Flint" – the participants will host a bike-decorating event May 12 at Tenacity Brewing in Flint. They are also in the midst of the planning a multi-stop art exhibition that will take place during the HealthPlus Tour de Crim on May 14.
"We wanted to build on some of our community's greatest strengths for this project," said Karena Hamlet, one of the participants in the inaugural cohort. "Not only does Flint have a thriving art scene, the city has been recognized as a Bicycle Friendly Community by the League of American Bicyclists. By working together with local organizations and businesses, we aim to celebrate those strengths."
The bike-decorating event will be open to the public from 4-8 p.m. on May 12. Landaal Packaging, Handmade Flint and Habitat for Humanity of Genesee County are among the organizations donating art supplies for the event.
After the event, participants can show off their newly decorated bikes during Social Cycling Flint's Thursday Night Party Ride, which kicks off at 8 p.m.
The festivities will continue on May 14, when the MorphACTion team hosts a multi-stop art exhibition along the 10-mile blue line course. Stops include the Flint Children's Museum, Mott Park, Powers Catholic High School, and the Festival Lot in downtown Flint, in addition to the window displays of the Mott Foundation Building.
Artists, performers and organizations featured at these sites will include Aaron Burch, Artistic Visions Enterprise, Boys & Girls Club of Flint, Cook School Tapestry, Kristen Pearless, Marti Miller, Sandra Branch of Gallery on the Go, William Terrian and YouthQuest.
The non-competitive bicycle challenge, which includes optional obstacles along the course, is scheduled to take place from 11 a.m. to 2 p.m. The artwork and performances, open to the cyclists as well as the general public, will be on display from 10 a.m. to 2 p.m.
According to Michelle Hill, Director of Shared Services at the Flint & Genesee Chamber, which leads the Leadership NOW program in partnership with United Way of Genesee County, the upcoming events pull together a number of lessons the MorphACTion team has learned over the past several months.
"Being a good leader goes beyond being the person in charge," Hill said. "It's knowing how to manage a diverse team, understanding group dynamics and leveraging local resources for the greater good. Each MorphACTion team member has had to do all of that and more in order to coordinate these events."
NOTE: This article was updated on May 7, 2016.