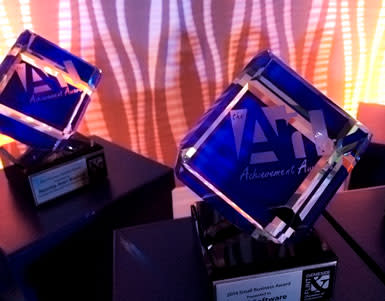 Award to be Renamed 'Claire White Award' Going Forward
(FLINT, Mich., Nov. 6, 2014) – The late Claire Mott White was honored with the "Woman of Achievement Award" during the Flint & Genesee Chamber of Commerce Art of Achievement Awards held tonight at the Riverfront Banquet Center in downtown Flint.
In presenting the award to White's son, Ridgway White, Flint & Genesee Chamber CEO Tim Herman also announced that the award would be renamed the "Claire White Award" in her honor.
"The 'Woman of Achievement Award' was created to honor a woman of great distinction who works toward the betterment of Flint & Genesee through her work in the community, in her career or in someone's life," Herman said. "Tonight, we're honored to recognize a woman who did all three."
White, who died in March, was the daughter of Harding Mott and granddaughter of Charles Stewart Mott. Her husband, Bill White, is president of the C.S. Mott Foundation.
Claire White was a trustee of the C.S. Mott Foundation and served on the board of the Flint Institute of Arts, C.S. Harding Foundation and the Isabel Foundation. She is a recipient of the FIA's Lifetime Achievement Award and of the Guvvy Award — the Michigan Governor's Award — for lifetime achievement in supporting the arts and culture. She was also awarded the Community Foundation of Greater Flint's Libby Award.
During the Art of Achievement Awards presentation, she was honored as a leader who had a memorable smile, loved her family and was passionate about helping others. She personally helped many women and girls throughout Flint, including financing their college education.
She was an ardent supporter of the FIA's art school and the Food Bank of Eastern Michigan's annual Empty Bowls fundraiser.
White never sought attention for her charitable deeds, Herman said.
"She has been called a 'silent leader,' " Herman said, "but her dedication to the people of Flint has always come through loud and clear."