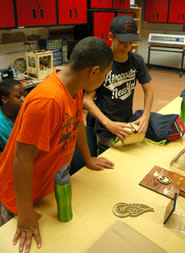 YouthQuest, a comprehensive, free afterschool program of the Flint & Genesee Chamber of Commerce, will be offered in all Flint Community Schools starting this fall. For the first time, the YouthQuest program will also be offered to high school students, at Flint's Northwestern High School and Southwestern Classical Academy.
The original K-8 YouthQuest program, which serves more than 2,000 students in 18 area schools, reinforces learning that takes place during the school day by offering high-quality activities and services that encourage the exploration of new interests in the areas of STEM (science, technology, engineering and math) and the arts, and promotes academic achievement, physical fitness, youth leadership and volunteerism.
Tim Herman, CEO of the Flint & Genesee Chamber, says YouthQuest's expansion to serve high school students is a validation of the afterschool program's success, and is crucial to the lives of Flint students.
"During those critical afterschool hours, YouthQuest fills the gap to keep kids safe, healthy and learning," Herman said. "I am delighted that more students will be reaping the benefits of this important program."
Starting in September, the YouthQuest program for grades 9-12 will go beyond the usual YouthQuest enrichment and academic curriculum to also focus on student clubs.
"We realize that high school students have different wants and needs than elementary students, so we are planning a program for them that is not only fun and enriching but age-appropriate," said Rhetta Hunyady, Vice President of Education and Training at the Flint & Genesee Chamber. "Going with a club format for the older students not only offers flexibility so that they can participate in other extracurricular activities, but it also gives these teens direct input about topics that are important to them.
"In this inaugural year of the high school program, participating teens will have the wonderful opportunity of helping to create the clubs in addition to simply participating in them."
In addition to the clubs, the high school students will benefit from:
College preparedness (ACT and SAT prep classes), study skills and test taking
Tutoring programs in partnership with local colleges
Career exploration and job shadow programs
The high school YouthQuest program will offer multiple clubs and activities after school that students can opt into with scheduling flexibility. The programs may run up to three hours, depending on the club activity.
In the K-8 program, YouthQuest students meet three hours a day, four days per week. Students also receive a meal and snack during this time, all at no cost to the students. Youths must commit to participating in the program at least 50 percent of the time.
For more information about YouthQuest, contact Rhetta Hunyady, Vice President of Education and Training, Flint & Genesee Chamber, at rhunyady@flintandgenesee.org or (810) 600-1412.