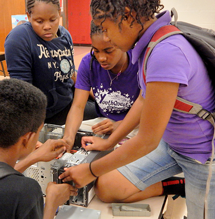 Expansion Makes Free Programming Available at All K-12 Flint Schools
(FLINT, Mich., Aug. 19, 2014) – YouthQuest, a comprehensive, free afterschool program of the Flint & Genesee Chamber of Commerce, will be offered in all Flint Community Schools starting this fall. For the first time, the YouthQuest program will also be offered to high school students, at Flint's Northwestern High School and Southwestern Classical Academy.
Tim Herman, CEO, Flint & Genesee Chamber, says YouthQuest's expansion to serve high school students is a validation of the afterschool program's success, and is crucial to the lives of Flint students.
"During those critical afterschool hours, YouthQuest fills the gap to keep kids safe, healthy and learning," Herman said. "I am delighted that more students will be reaping the benefits of this important program."
The original K-8 YouthQuest program, which serves more than 2,000 students in 18 area schools, reinforces learning that takes place during the school day by offering high-quality activities and services that encourage the exploration of new interests in the areas of STEM (science, technology, engineering and math) and the arts, and promotes academic achievement, physical fitness, youth leadership and volunteerism.
The following schools will offer YouthQuest this fall:
Brownell/Holmes STEM Elementary Academy in Flint
Carpenter Road Elementary in Flint
Cummings Elementary in Flint
Doyle-Ryder Elementary in Flint
Durant Tuuri-Mott Elementary in Flint
Eisenhower Elementary in Flint
Freeman Elementary in Flint
Neithercut Elementary in Flint
Pierce Elementary in Flint
Potter Elementary in Flint
Scott Elementary in Flint
Northwestern Middle/High School in Flint
Southwestern Middle/High School in Flint
International Academy of Flint Elementary – Charter
International Academy of Flint Middle – Charter
Dye Elementary – Carman Ainsworth
Randels Elementary – Carman Ainsworth
"I am thrilled that all Flint Community Schools will offer free afterschool programming under the YouthQuest brand," said Flint Community Schools Superintendent Larry Watkins. "The YouthQuest program has a stellar reputation throughout Flint & Genesee. It is exactly the type of advantage our students need and deserve in the district's quest for excellence."
Starting in September, the YouthQuest program for grades 9-12 will go beyond the usual YouthQuest enrichment and academic curriculum to also focus on student clubs.
"We realize that high school students have different wants and needs than elementary and middle school students, so we are planning a program for them that is not only fun and enriching but age-appropriate," said Rhetta Hunyady, Vice President, Education and Training, Flint & Genesee Chamber. "Going with a club format for the older students not only offers flexibility so that they can participate in other extracurricular activities, but it also gives these teens direct input about topics that are important to them.
"In this inaugural year of the high school program, participating teens will have a great opportunity to help create the clubs in addition to simply participating in them."
The club offerings might surprise some people. Planned clubs include underwater robotics, as well as scuba diving. The goal is that scuba diving students could then photograph the underwater robotics.
In addition to the clubs, the high school students will benefit from:
College preparedness (ACT and SAT prep classes), study skills and test taking
Tutoring programs in partnership with local colleges
Career exploration and job shadow programs
The high school programs may run up to three hours per day, four days per week, depending on the club activity. In the K-8 program, YouthQuest students also meet three hours a day, four days per week. Students also receive a meal and snack during this time, all at no cost to the students.
Research shows that children and youths who participate in high-quality, afterschool programs:
Earn higher grades and significantly higher standardized test scores
Have improved attendance
Behave better in school and are more apt to graduate
Complete their homework more successfully and more often
Increase their problem-solving skills
Have better peer relations, emotional adjustment and conflict resolution skills
For more information about YouthQuest, contact Rhetta Hunyady, Vice President of Education and Training, Flint & Genesee Chamber, at rhunyady@flintandgenesee.org or (810) 600-1412.
About YouthQuest
YouthQuest is a high-quality, research-based afterschool program offering educational and enrichment activities that engage young minds. Available at 15 sites in the city of Flint and Genesee County, YouthQuest serves 2,000 students in grades K-12 each year. The program is administered by the Genesee Area Focus Fund, a supporting organization of the Flint & Genesee Chamber of Commerce, with support from the Charles Stewart Mott Foundation and 21st Century Community Learning Centers. For more information, visit www.yquest.org.