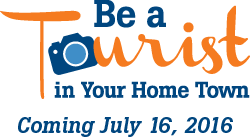 June 8, 2016
Chances are you've heard your parents say it more than once: Tourism begins at home.
And you know what? They were right!
So come along and join us for the fourth-annual "Be a Tourist in Your Hometown."
Presented by the Flint & Genesee Convention and Visitors Bureau (CVB), the one-day excursion gives local residents and non-residents alike the opportunity to experience the best the community has to offer – all for only $1. This year's event takes place July 16 from 10 a.m. to 4 p.m.
"Tourists" purchase passports that grants access to three dozen venues throughout Flint. In addition, the passports are valid for discounts at more than a dozen downtown Flint restaurants. Complimentary transportation between attractions is provided by co-sponsor Mass Transportation Authority (MTA) on designated MTA "Tourist" buses.
"Be A Tourist is a great way to get better acquainted or reacquainted with Flint, and all at an unbeatable price," said CVB Director DeAndra McCain. "We also have 15 downtown restaurants that will be offering tourists a 10-percent discount on food and soft drinks purchases on that day.
"Fun, relaxing, informative and food. It's a complete day-trip package that has something for young families and individuals as well as older adults."
Last year's event drew a record crowd of nearly 1,000 participants – an increase of 58 percent over the turnout in 2014 – to 38 participating attractions.
The 2016 event features several new attractions and restaurants, including the Flint Handmade Summer Arts & Craft Street Fair at Flint Farmers' Market. Local artisans will be selling handcrafted wares, including jewelry, garden art, purses, pottery and more on First Street between Stevens and Wallenberg.
Passports can be purchased online at https://webdev.flintandgenesee.org/events/tourist-home-town-flint/, where you also can see a full list of participating venues.
The passports also can be picked at the Riverfront Banquet Center in downtown Flint on the day of the event, where tourists will also receive their maps and catch free bus rides.