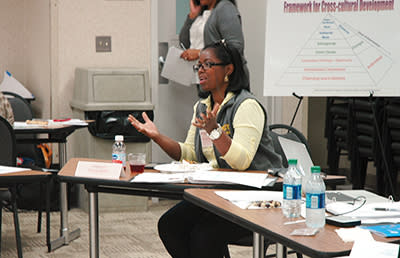 March 16, 2016
Leadership NOW – the intensive, yearlong leadership development program offered through the Flint & Genesee Chamber of Commerce and United Way of Genesee County – this week kicks off its second class.
The immersive program is designed for current and emerging leaders who want to build their leadership skills and learn how to develop effective partnerships and collaborative initiatives.
"We've been incredibly pleased with the progress of Leadership NOW's inaugural class, which kicked off last July and is now working on its capstone project," said Michelle Hill, Director of Shared Services at the Flint & Genesee Chamber. "We're excited to build on that momentum with this next class."
The upcoming class includes 14 participants who either work and/or live in Genesee County. They include:
Stacy Betts (Burton), Director of PTAC, Flint & Genesee Chamber of Commerce
Connie Brauer (Goodrich), Administrative Assistant, Local Initiative Support Corporation in Flint
Bethany Collins (Flint), Site Coordinator, Metro Community Development in Flint
Loren Crandell (Grand Blanc), Partner, Giffels Webster in Birmingham
Leon El-Alamin (Flint), CEO, MADE Institute in Flint
Lisa Fockler (Grand Blanc), Owner, Remedy Exchange in Grand Blanc
Matthew Frierson (Grand Blanc), Project Coordinator, Big Brothers Big Sisters of Greater Flint
Lucille James (Flint), Demolition Program Manager and Database Administrator, Genesee County Land Bank Authority
Claudnyse D. Jenkins (Southfield), Executive Director, Weiss Child Advocacy Center in Flint
Carmelita Lewis (Flint), Community Program Director, Neighborhood Engagement Hub in Flint
Jaclyn Metcalfe (Flint), Visitor Services Manager, Flint Children's Museum
Adil Mohammed, of Swartz Creek, is Co-founder of Med+IT Systems, Flint
Justin Sprague (Fenton), Director of Business Development, Flint & Genesee Chamber of Commerce
Alaina Wiens (Linden), Director of Marketing, Flint & Genesee Chamber of Commerce
Over the next year, each participant will undergo an in-depth leadership assessment, 72 hours of training and 10 hours of individualized coaching. Lisa Fockler, Owner of Remedy Exchange in Grand Blanc, says she's looking forward to learning concepts that have real-world applications.
"I'm currently helping a coalition establish itself as an independent organization," Fockler said. "I'll be helping with things like developing a board and strategic planning. I've done some of those things before, but some of it is new territory for me. I'd like to develop my own leadership skills so that I can better serve this organization."
For more information about the program, contact Michelle Hill at mhill@flintandgenesee.org or 810-600-1423, or Jenni Dones at jdones@unitedwaygenesee.org or 810-762-5822.