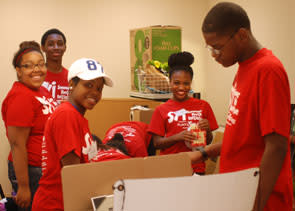 (FLINT, Mich., July 24, 2014) – More than a dozen Flint schools and other local sites will get a spruce-up Aug. 7 as 450 TeenQuest students head out to volunteer during the annual Summer Youth Initiative (SYI) Volunteer Service Day.
For the first time, TeenQuest/SYI – a program of the Flint & Genesee Chamber of Commerce – is partnering with the City of Flint, Flint Community Schools, local block clubs, and Flint PAL Haskell Center/Bassett Park for the annual day of service.
Teens will conduct beautification projects at all 14 Flint Community Schools sites.
"Knowing that these kids are taking time from their summer jobs and summer breaks to give back to Flint schools is greatly appreciated," said Larry Watkins, Superintendent of Flint Community Schools. "The pride they'll feel seeing the fruits of their labor when they return to school in the fall will be evident. It's a great benefit to the district and to the kids themselves."
In addition to the schools, teens will clean up at four major work sites from 9 a.m.-noon that day: Haskell Center/Bassett Park, Forest Hill at Rankin around Civic Park School, Franklin between Leith and Robert T. Longway, and near Gillespie and Mildred. Some teens will also volunteer at day camps as part of the project.
"This day of service fulfills the volunteer requirement of the SYI program, but it ends up meaning so much more to the teens and to the community," said Rhetta Hunyady, Vice President of Education & Training, Flint & Genesee Chamber of Commerce. "Lessons learned about community involvement and about giving to others can't just be taught – they must be experienced. The SYI Volunteer Service Day does that."
In addition to the Aug. 7 volunteer event, more than 500 TeenQuest graduates are currently in the midst of their summer jobs with dozens of area employers as part of SYI – despite a high teen unemployment rate in Michigan.
According to a forecast from the Michigan Department of Technology, Management & Budget (DTMB), Michigan teens are facing an unemployment rate of 26.5 percent this summer. About 64,300 teens were expected to be without a job from June through August 2014.
"To be able to employ more than 500 Flint and Genesee County teens in this economy is quite a testament to the value of our TeenQuest and SYI programs," said Tim Herman, CEO, Flint & Genesee Chamber of Commerce. "Combine the benefit to the businesses of employing these well-prepared teens with the boost that the summer income gives to our area families, and it really is a win-win."
Among this year's Volunteer Service Day highlights:
•             Small teams of five to seven teens will be placed at each of the 14 Flint school sites, clearing trash, sprucing hedges and planting flowers.
•             A large team of 50-100 teens will volunteer at Haskell Center/Bassett Park, and Forest Hill at Rankin around Civic Park School, clearing trash from 14 abandoned home sites to make way for mowing and debris removal.
•             Up to 75 teens will help clear Franklin between Leith and Robert T. Longway as part of an ongoing effort to clean up the eastside neighborhood.
•             Fifty to 75 teens will remove debris near Gillespie and Mildred Street as part of UFO Village Projects (Urban Farm Operation).
To wrap up the day's events, everyone assisting will be invited to join the teens for lunch and a celebration from 12:30 p.m.-2:30 p.m. at Kearsley Park.
SYI helps more than 500 qualified teens find employment each year. The Flint & Genesee Chamber works with organizations to hire students for summer and year-round jobs including summer day camp counselors working with young children, general office duties, reading assistants, beautification and gardening assistants, library assistants and food bank workers.
To participate in SYI, teens must graduate from TeenQuest, a five-week afterschool training program in which youths ages 14-18 learn a set of skills that will help them be successful at school, work and home. Once teens have graduated from TeenQuest, they are eligible to participate in job interviews and compete for summer jobs.
For more information about Volunteer Service Day, contact Amy Watts at (810) 730-6370.