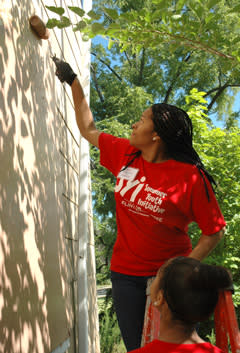 (FLINT, Mich., Aug. 5, 2015) – From boarding up houses to cutting grass, 270 local teens today took on beautification projects in several Flint-area neighborhoods and parks.
The annual Summer Youth Initiative (SYI) Volunteer Service Day is a key aspect of the SYI program, which helps fund and coordinate the employment of youth ages 14-19 at area non- and for-profit organizations.
"Volunteering -- whatever the project may be -- is a great way to build relationships, gain new skills and make an impact in your community," said Tim Herman, CEO, Flint & Genesee Chamber of Commerce, which manages TeenQuest/SYI. "This service day provides local teens with the opportunity to learn firsthand about the value of volunteerism. They are also encouraged to volunteer their time outside of the Summer Youth Initiative."
This year, TeenQuest/SYI partnered with the City of Flint, Flint Community Schools, Fight Against Blight, Neighborhood Engagement Hub, and local neighbors and park adopters for the annual day of service. Benefitting from the volunteer work were several local neighborhoods and parks, including Forest Hill Avenue, where students boarded up 15 abandoned houses, removed debris and weeds and trimmed shrubs and bushes.
Other sites that were spruced up include Baker Street, between Avenue A and Saginaw Street; East Taylor and Avenue A; Addison Street, near North Street; Bonbright Street and Genesee Street; Hasselbring Community Center, Flint Park Lake; Sarvis Park, Forest Hill Avenue, near Sonny Avenue; Sterling Street, near Sonny Avenue; and Lowell School, at 3301 N. Vernon Ave.
"Today was really about empowering the youth of Flint and Genesee County," said Rhetta Hunyady, Vice President of Education & Training, Flint & Genesee Chamber. "We asked our students to roll up their sleeves and make a difference, and they rose to the challenge. More importantly, they saw how they can play an active role in bettering our community."
To qualify for SYI, students must first graduate from TeenQuest, a free afterschool pre-employment and leadership training program. Once teens have graduated from TeenQuest, they are eligible to participate in job interviews and compete for summer jobs.
This year, SYI has helped more than 400 qualified teens find jobs as day camp counselors, reading assistants, beautification and gardening assistants, library assistants and food bank workers.
About the Summer Youth Initiative and TeenQuest
The Summer Youth Initiative is a program that helps Flint-area teens find paid summer jobs. It's open to students who've completed the TeenQuest afterschool program, which provides pre-employment and leadership training to students ages 14 to 19 to help them succeed in college and the 21st century workplace. Both programs are administered by the Genesee Area Focus Fund, a supporting organization of the Flint & Genesee Chamber of Commerce, with support from the Charles Stewart Mott Foundation. To apply or learn more, visit www.flintandgenesee.org/teenquest.