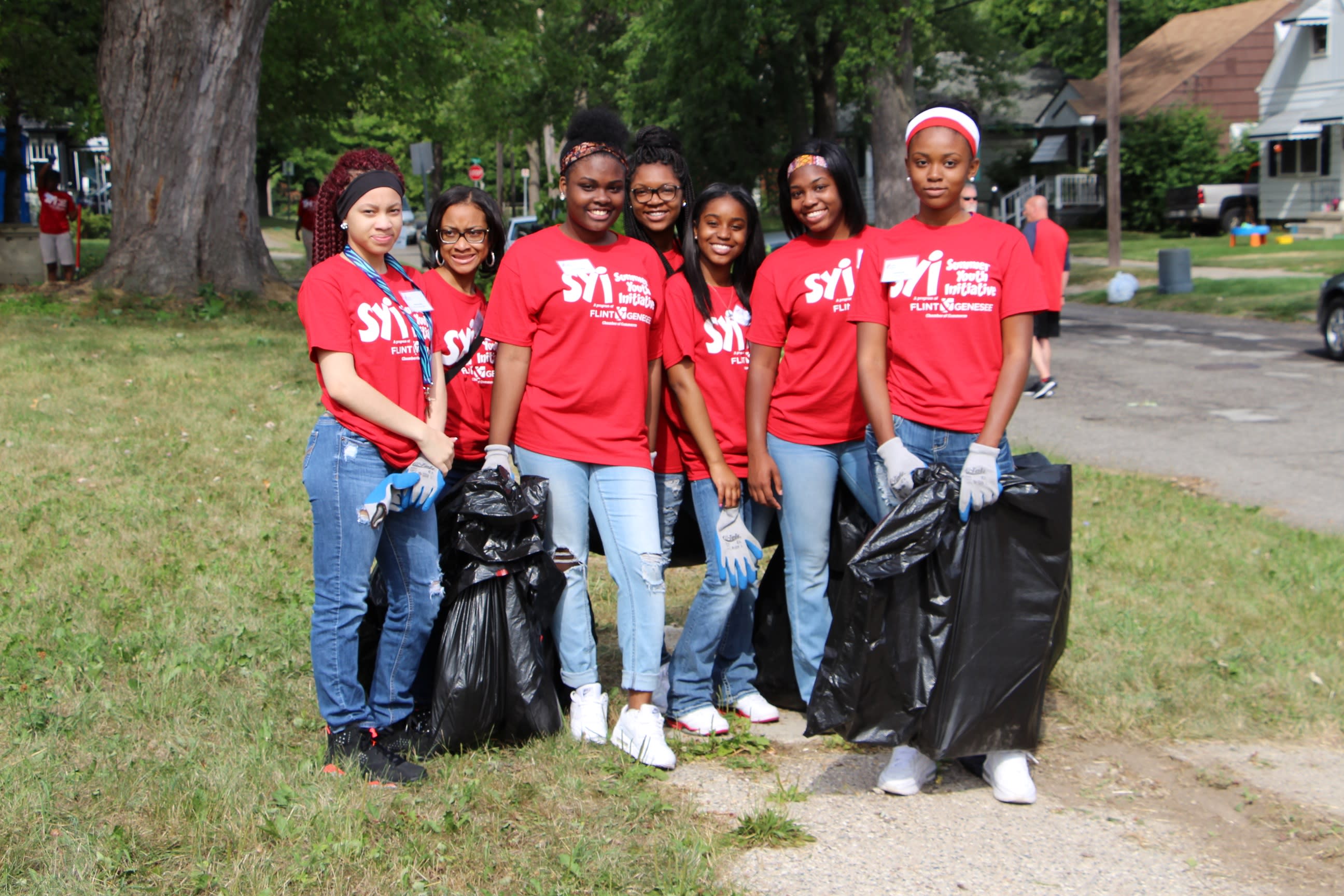 (FLINT, Mich., July 28, 2016) – More than 400 local teens took a break from their summer jobs today to lead various beautification projects in several Flint-area neighborhoods and parks.
The young people, ages 14-19, are part of Summer Youth Initiative (SYI) – a program that helps fund and coordinate the summer employment of Genesee County teens. The program is open to students who have completed TeenQuest, a pre-employment and leadership training program that teaches participants how to "stand up and stand out" in the 21st century workplace.
"The annual SYI Volunteer Service Day is one of the most important elements of our summer program," said Rhetta Hunyady, Vice President of Education and Training at the Flint & Genesee Chamber of Commerce, which oversees TeenQuest/SYI. "Volunteering is a great way for teens to gain news skills, strengthen their resumes and make a positive impact in their community. There are many benefits -- both professional and personal."
This year, TeenQuest/SYI partnered with the City of Flint, Saginaw-area students from First Ward Community Services, Chamber employees and area businesses for the annual day of service. Benefitting from the volunteer work were several local neighborhoods and parks, where students mowed lawns and removed debris.
"It is always wonderful to see our youth making a positive difference in our community," said Flint Mayor Karen Weaver. "Too often we only hear about the negative, but we know there is a lot of good happening in Flint and a lot of great people doing what they can to give back. We appreciate all of the volunteers for taking time out to make our city better, thank you."
Sites that were spruced up include the neighborhood surrounding Ashbury United Methodist Church on Davison Road; Addison, Tilden and Edmund Streets; Daniel and Cecil Drives, near Carpenter Road; Brown Street, between Brabyn Avenue and Downey Street; Eastlawn Drive, near Civic Park; and Mason, Robin and Cassius Streets, near Max Brandon Park.
To qualify for SYI, students must first graduate from TeenQuest, a free afterschool pre-employment and leadership training program. Once teens have graduated from TeenQuest, they are eligible to participate in job interviews and compete for summer jobs.
This year, more than 600 qualified teens have secured jobs through SYI.
For more information, visit www.flintandgenesee.org/syi.
About the Summer Youth Initiative and TeenQuest
The Summer Youth Initiative is a program that helps Flint-area teens find paid summer jobs. It's open to students who've completed the TeenQuest afterschool program, which provides pre-employment and leadership training to students ages 14 to 19 to help them succeed in college and the 21st century workplace. Both programs are administered by the Genesee Area Focus Fund, a supporting organization of the Flint & Genesee Chamber of Commerce, with support from the Charles Stewart Mott Foundation. To apply or learn more, visit www.flintandgenesee.org/teenquest.
.