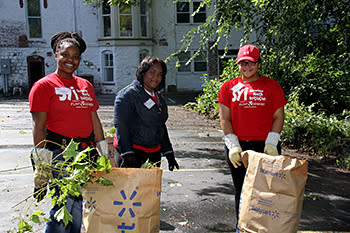 Summer Youth Initiative teens clean-up during the annual SYI Volunteer Day.
More than a dozen Flint schools and other local sites will get a spruce-up Aug. 7 as about 450 TeenQuest students head out to help during the annual Summer Youth Initiative (SYI) Volunteer Service Day.
For the first time, TeenQuest/SYI is teaming with the City of Flint, Flint Community Schools, local block clubs, and Flint PAL Haskell Center/Bassett Park for the annual day of service. Teens will conduct beautification projects at all 14 Flint Community School sites, various City of Flint locations, Haskell Community Center and at other nonprofit agencies. In addition to beautification and cleanup efforts, some teens will also volunteer at day camps as part of the project.
"We are excited to partner with Flint Community Schools for this year's Volunteer Service Day," said Rhetta Hunyady, Vice President of Education & Training for the Flint & Genesee Chamber of Commerce. "With so many of our young volunteers attending Flint schools, they'll get to see the results of their hard work every day. The projects will mean so much to the schools and to the kids personally."
Among this year's Volunteer Service Day highlights:
Small teams of five to seven teens will be placed at each of the 14 Flint school sites, clearing trash, sprucing hedges and planting flowers. 
A large team of 50-100 teens will volunteer at Haskell Center/Bassett Park, and Forest Hill at Rankin around Civic Park School, clearing trash from 14 abandoned home sites to make way for mowing and debris removal.
Up to 75 teens will help clear Franklin between Leith and Robert T. Longway as part of an ongoing effort to clean up the eastside neighborhood.
Fifty to 75 teens will remove debris near Gillespie and Mildred Street as part of UFO Village Projects (Urban Farm Operation).
Each year, SYI teens participate in a morning of volunteer service to the community as part of their commitment to the program.
SYI helps more than 500 qualified teens find employment each year. The Flint & Genesee Chamber of Commerce works with area nonprofit and for-profit businesses to hire students for summer and year-round jobs including summer day camp counselors working with young children, general office duties, reading assistants, beautification and gardening assistants, library assistants and food bank workers.
To participate in SYI, teens must graduate from TeenQuest, a five-week afterschool training program in which youths ages 14-18 learn a set of skills that will help them be successful at school, work and home. Once teens have graduated from TeenQuest, they are eligible to participate in job interviews and compete for summer jobs.