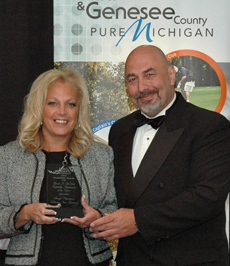 (FLINT, Mich., May 1, 2014) -- The Flint & Genesee Convention & Visitors Bureau (FGCVB) and the Flint & Genesee Chamber of Commerce (FGCC) will celebrate professional excellence at a combined awards ceremony Thursday, Nov. 6. The FGCVB is a business unit of the Flint & Genesee Chamber of Commerce.
Originally scheduled for May 22, the FGCVB's Hospitality and Community Champion Awards will be combined with the Chamber's Business Awards and ATHENA Award recognitions, to honor the region's outstanding businesses and individuals, in a year-end gala event.
"We look forward to bringing together these prestigious awards into one bigger, brighter gala celebration of service industry professionals, small and large business owners and outstanding professional women in our community," said Cheryl DeFrain, Director of the FGCVB.
The Hospitality Awards recognize outstanding service by local restaurants and hotels, and individual hospitality personnel working in guest services. The Community Champion Award recognizes an individual for bringing a conference/meeting to the county with the greatest economic impact to the region.
In addition to Hospitality Award nominations that have already submitted, the FGCVB will continue to accept nominations until Sept. 12.
Visitors to, and residents of, Genesee County are encouraged to nominate those that go above and beyond to make a Flint & Genesee visit a memorable experience.
Make your nomination at: https://www.flintandgenesee.org/visit/about-the-cvb/hospitality-awards-nomination-form/