February 3, 2016
The Flint & Genesee Chamber of Commerce has free bottled water available for Flint businesses and public community centers impacted by the city's ongoing water emergency. The water was made available by private donors, in collaboration with the City of Flint, Genesee County and the State of Michigan, and is intended exclusively for businesses served by Flint's municipal water system.
The bottled water will be available twice a week free of charge. Businesses must pick up the water from the distribution site.
Commercial food and beverage businesses may receive up to 10 cases per day of distribution (up to 20 cases per week).
Non-food businesses may receive up to five cases per day of distribution (up to 10 cases per week).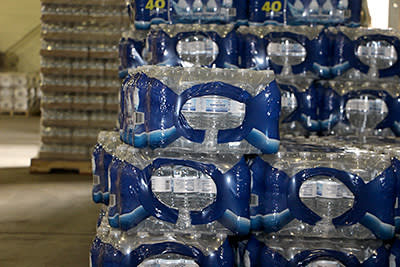 When: Tuesdays and Thursdays, from 9-11 a.m.
Where: Genesee Packaging, 1611 James P. Cole Blvd., located in the Riverview Industrial Park in Flint. (Once inside the park, follow the blue signs to the left.)
Businesses must not charge its patrons for the bottled water received from this distribution service. Recipients are asked to please honor this requirement.
Questions: Call the Flint & Genesee Chamber at 810-600-1404