(FLINT, Mich., Mar. 12, 2015) – Employment in Genesee and Shiawassee counties edged up slightly by 1.4 percent in Q4 2014, with 2,889 more individuals employed than in Q3. In addition, annual employment was higher by 3,000 individuals in 2014 compared to 2013, according to data compiled by the Workforce Intelligence Network of Southeast Michigan (WIN) for its 4th quarter market report.
The unemployment rate in the two-county region dropped for another quarter, from 7.7 percent in the 3rd quarter of last year to 5.4 percent by year's end. The 1.8 percentage point drop is due primarily to job gains and only in part to a declining labor force. Job growth outpaced the drop in labor force from Q3 to Q4 2014. The labor force in Genesee and Shiawassee counties has been slowly declining since early 2008, with 1,125 individuals leaving the market in the two-county region (a 0.5 percent drop).
 Employment and Labor Force Overview: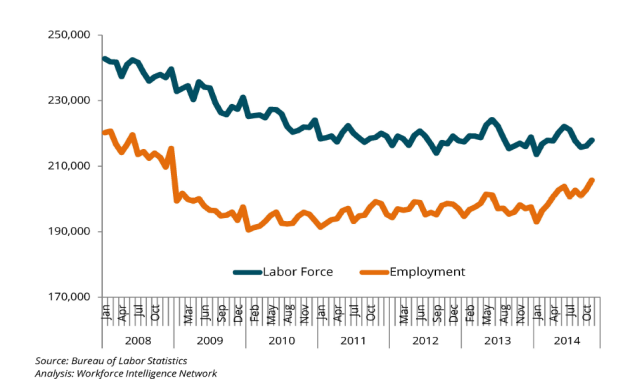 There were 4,398 postings in the two-count region in Q4 2014, with the Genesee County labor force representing the largest share of the data, by far.
"Health care employment has been growing consistently to meet the needs of our population in Genesee County. In fact, some of that growth has fueled recent projects in downtown Flint," said Janice Karcher, Vice President of Economic Development for the Flint & Genesee Chamber of Commerce. "In addition, employment in commercial transportation and non-retail sales accounts for nearly 60 percent of the area's top in-demand jobs, which means there are good-paying job opportunities that don't require a four-year degree."
The top occupational clusters were in Genesee-Shiawassee counties:
Retail and Hospitality – 1,076 postings
Health Care – 642 postings
IT – 137 postings
Skilled and Trades Technicians – 116 postings
Engineers and Designers – 114 postings
The top in-demand jobs for Genesee County:
Heavy and Tractor-Trailer Truck Drivers – 386 postings
Retail Salespersons – 165 postings
Sales Representatives, Wholesale and Manufacturing (excluding Technical and Scientific Products) – 116 postings
First-Line Supervisors of Retail Sales Workers – 102 postings
Customer Service Reps. – 92 postings
"The improved economy is having a much-needed positive impact on the employment picture in our area," said Craig Coney, President/CEO of Genesee Shiawassee MI Works!. "We're very optimistic about continued growth as we move into the second quarter of 2015."
WIN is a collaboration of nine community colleges, seven Michigan Works! agencies, and numerous other organizations to create a comprehensive and cohesive workforce development system in Southeast Michigan that provides employers with the talent they need for success.