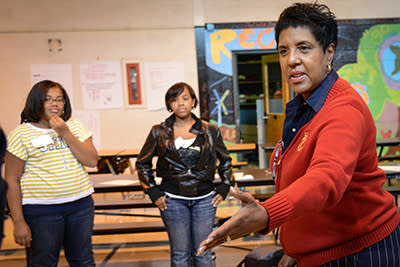 September 23, 2015
The Flint & Genesee Chamber of Commerce's YouthQuest and TeenQuest programs have immediate openings for staff and vendors, and there's one key requirement to apply.
"You must enjoy working with the students," said Sharri Newman, Director of YouthQuest, a comprehensive, afterschool program that serves approximately 2,000 students (K-12) in Flint & Genesee. "Both of these programs aim to provide an engaging learning experience, and it's critical that the people involved are passionate about that mission."
YOUTHQUEST OPPORTUNITIES
According to Newman, YouthQuest is currently accepting applications for Learning Guides and vendors for the 2015-16 school year, which runs through May 19, 2016.
Learning Guides provide academic support for students in addition to supervising and leading a variety of educational and enrichment activities. For more information about this position, click here. Interested candidates should submit an app​lication, resume, cover letter and three references to info@yquest.org.
The enrichment program is also seeking vendors, or businesses or individuals that provide exciting learning experiences that connect to YouthQuest's core objectives of academic support, enrichment through visual and performing arts, physical fitness, nutrition and more. For additional information or to download an application, click here.
TEENQUEST OPPORTUNITIES
TeenQuest, a free afterschool program that provides pre-employment training to high school students, ages 14-19, in Genesee County, is also building its team for the current school year.
TeenQuest is seeking qualified applicants to serve as Part-time Facilitators and lead training during the five-week program, which is offered four times during the school year. Interested candidates should submit a resume to awatts@flintandgenesee.org.