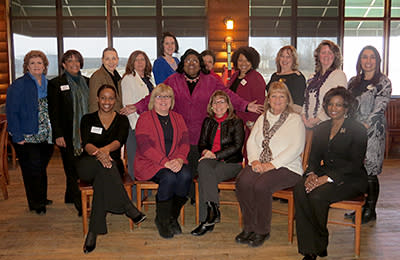 Flint & Genesee Women's Business Committee
Now that you've joined the Flint & Genesee Chamber of Commerce, you might consider enhancing your membership by participating in one of several standing committees.
The Chamber's established committees are engaged in legislative research as well as environmental and community issues facing Flint and Genesee County. Each group maintains a regular meeting schedule.
"Committee involvement provides an inside track to relationship building," said DeAndra McCain Sales Manager, Member Services, for the Flint & Genesee Chamber. "It's an excellent way to hone skill sets, and to have a group of individuals to share experiences, to learn and develop professionally.
"The committees also serve as a referral network for various services for our members."
The committees are:
African American Advisory Committee: Addressing the concerns of the African American business community.
Ambassadors: Ambassadors support the Chamber in a variety of ways—from participating in Lunch is on Us, after hours or group events, to spreading the word about the Chamber and welcoming new members to the organization.
Disability Works: A group of leaders from Genesee County businesses and agencies working together to establish a single source of information and support focused on people with disabilities as employees.
Sales Lead Roundtable: Available only to Chamber members as a quick and efficient way for you or your sales staff to get current and accurate lead information by sharing with others.
Women's Business Committee: Advocating and supporting women in business for over 20 years.
Young Professionals: Connecting young professionals and supporting the Chamber with volunteer and philanthropic community projects.
Most committee participation is free for members of the Flint & Genesee Chamber. The lone exception is the Young Professionals group, whose dues are $50 annually for its membership demographic of 18-40 year olds.
The Young Professionals group is hosting its next "Meet the Executives Series" from 5-7 p.m. March 19 at ROWE Professional Services, 540 S. Saginaw St., Suite 200, in Flint. The featured speakers are: Flint Mayor Dayne Walling; Jessie Hurse II, Director of Student Conduct & Conflict Resolution, University of Michigan-Flint; and Leanne Panduren, President, ROWE Professional Services.
"The 'Meet the Executives Series' provides an intimate networking experience, access to leading local executives as well as an opportunity for guests to learn more about the Young Professionals committee and the benefits of Chamber membership," said McCain.
For more information about the Chamber's various committees, please call DeAndra McCain in Member Services at 810.600.1408.