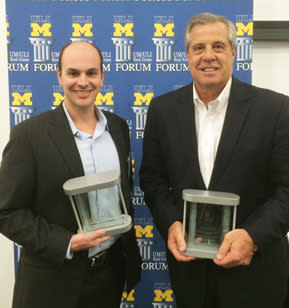 (DETROIT Nov. 20, 2014) -- Uptown Reinvestment Corporation (URC) was honored Tuesday at the University of Michigan and Urban Land Institute's 28th annual Real Estate Forum for its Health and Wellness District project. The $32 million, four-block investment in downtown Flint was the recipient of the Development/Redevelopment of the Year Award.
Tim Herman, President of URC and CEO of the Flint & Genesee Chamber of Commerce, and Ridgway White, Vice President of Special Projects for the Charles Stewart  Mott Foundation, accepted the award at the event in Detroit. The Flint project was chosen from more than 20 nominations throughout the state.
"It is a great honor to accept this award on behalf of the URC board," Herman said. "This project is one of several that are helping to move Flint toward a brighter future."
The Flint Health and Wellness District includes Michigan State University's College of Human Medicine, the Flint Farmers' Market, the Genesys PACE center and the demolition of Genesee Towers to make way for new development.
Tom Wackerman, chairman of the forum, noted that this year's nominees represented huge cross-sections of communities across the state that are developing robustly.
"This year, 16 cities were represented in these awards, and … that's a great testament to the real estate market everywhere in the state," Wackerman said. "It paints a story that says recovery is happening in several areas around the state – not just Grand Rapids and Detroit."
Award winners were selected by a panel of about 10 judges made up of representatives of ULI Michigan, UM and statewide economic development experts.
For more information, contact Uptown Reinvestment Corporation at (810) 238-8669 or marcus@uptowndevelopments.com.