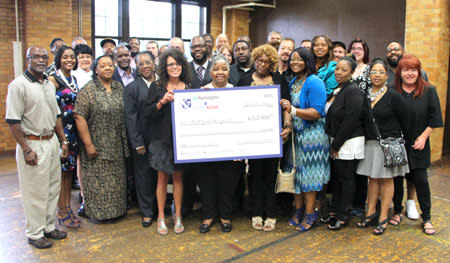 (FLINT, Mich.– June 16, 2016) FlintNOW, Huntington Bank and The Flint & Genesee Chamber of Commerce today announced that 30 Flint businesses would receive grant money totaling $269,500 from the Moving Flint Forward (MFF) Fund. The grants mark the first round of disbursements from a $1 million contribution made by Huntington Bank to the MFF Fund as part of a $25 million economic development program launched in March by Huntington Bank and FlintNOW.
The MFF Fund was launched to address the immediate and long-term business development needs resulting from the Flint water emergency. Huntington Bank in partnership with FlintNOW made the first donation to the fund of $1 million. The MFF Fund is part of a comprehensive economic development program to help boost the Flint economy and provide relief to local businesses and residents in the Flint area. FlintNOW is a private sector initiative launched by Tom Gores, Chairman and CEO of Platinum Equity and Owner of the Detroit Pistons, to provide support for a broad range of relief and revitalization efforts in Flint.
According to Jim Dunlap, Huntington's lead executive for Michigan and regional banking and Private Client Group director, partnering with FlintNOW and the Flint & Genesee Chamber was a natural fit to help Flint businesses recover.
"We knew a philanthropic partner would be critical in helping small businesses with short-term relief as part of a longer-term initiative to help revitalize the Flint economy," Dunlap said. "We are glad to see the money getting into the community in a timely manner and look forward to allocating the $24 million in lending resources we have committed in support of Flint."
Mark Barnhill, a Partner at Platinum Equity and member of the FlintNOW Board of Directors, praised Huntington for its contribution and the Chamber for its administration of the MFF grants program.
"It is vital to get grant money as quickly as possible into the hands of the small business owners who need it most," Barnhill said. "This is the beginning of a long road toward economic recovery in Flint, and we are proud to partner with Huntington and the Chamber on this important program. This is exactly the kind of private sector partnership that Tom and the rest of our team envisioned when we launched the FlintNOW effort."
The MFF Fund grants range from $5,000 to $10,000 to cover general business needs such as new equipment, repairs, inventory, working capital, water filtration systems and reimbursements, vendor payments and marketing/advertising needs.
The Flint water crisis damaged businesses far and wide impacting multiple industries such as restaurants, real estate, manufacturing services, retail and logistics.
"The business grants are an important step in Flint's and many small businesses' recovery," said Tim Herman, CEO, Flint & Genesee Chamber. "The funds can literally help keep the doors open, retain jobs or bring in new customers. So we're delighted that the Flint & Genesee Chamber could play a small role in helping them. We hope the generous support from Huntington Bank and FlintNOW will inspire others to donate to the Moving Flint Forward Fund."
Flint Mayor Karen Weaver is also pleased that Flint businesses are getting some financial relief.
"This is great news for Flint," said Mayor Weaver. "I want to thank FlintNOW and Huntington Bank for supporting our city and local businesses. As we move forward on the road to recovery, we must build a strong economy and be able to provide needed services and good jobs in the city. Generous donations like this will help us do just that. The residents and business leaders of Flint are resilient, and with help and support from other leaders around our great state, I know we will bounce back better and stronger than ever despite all that's happened here."
The Moving Flint Forward Fund (www.fundsforflint.org) was established at the Community Foundation of Greater Flint and administered by the Genesee Chamber Foundation, a support organization of the Flint & Genesee Chamber. It serves to help bridge the gaps that exist between the various government sources of funds as well as address the business recovery needs that are outside the realm of health and human services.
Grants are awarded on a first-come, first-serve basis. Applications are still being accepted. To be eligible, applicants have to own and operate a business within the City of Flint and prove financial hardship as a result of the current economy and water crisis. Special consideration is given for minority-owned businesses. For more information about the Moving Flint Forward grant program, to apply or donate, please contact the Flint & Genesee Chamber of Commerce (www.flintandgenesee.org) at (810) 600-1404.
Moving Flint Forward Fund Grant Recipients
Shirley Anderson, Shirley Anderson
Anthony Artis, The Artis Collection
Tanya Bellant, Doggie Delight
Beverly Biggs-Leavy, Beverly Cakes and Catering
Terri Braggs, Food For Your Soul Catering
Dion Brown, Ain't It Clean Hand Car Wash
Leon El-Alamin, Abdulla Building Performance Bloc
Donna Farley, EGO Lyfe
Jasmin Grant, Eagle Eye Protection, LLC
Matt Hall, Premier Powder Coating
Derek Hatter, D and No Holdings
Marie Haywood, Uniquely Created Children's Center
Neil Helmkay, Angelo's Coney Island
Donna Holmes, Kindom Kampus CDC
Valorie Horton and Omar Barston, The Chosen Few Corporation
Issa Ishaq, GRM Enterprises
Lezlie Kenny, Cunninghams Salon and Barber Shop
Jason Keys, Master's Beauty and Barbershop Inc.
Kreg Krueger, Gordon Anthony Florist
Joe Lee, Joe Lee's Hairstylin Center
Oaklin Mixon, Goodboy Clothing
Evelyn Morgan, Woodcroft Adult Foster Care
Harold Morgan, Ecentury Appraisal Services
Marjorie Murphy, The Cork on Saginaw
Shamonica Porterfield, The N Look Hair Nail Studio
Dion Savage, Dion's Party Store
C. Szumowicz and L. Leffel, Wild Root Coffee
Howard Walker and Kim Burney, New Attitudes Beauty Salon
Cheryl Wilson, Jireh's Hair Salon
Michelle Yaklin, Bongos Popcorn LLC
Media Contacts:
Elaine Redd, Flint & Genesee Chamber ERedd@flintandgenesee.org (810) 600-1418
Brent Wilder, Huntington Bank brent.wilder@huntington.com (614) 480-5875
Daniel Whelan, FlintNOW dwhelan@platinumequity.com (310) 766-5654
About Flint & Genesee Chamber of Commerce
The Flint & Genesee Chamber of Commerce (www.flintandgenesee.org) is a premier business membership organization unlike most chambers of commerce. In addition to traditional member services, our responsibility includes serving as the lead economic development agency for Flint & Genesee, marketing tourism, youth and business training, and a Shared Services Center.
About Huntington
Huntington Bancshares Incorporated is a $73 billion asset regional bank holding company headquartered in Columbus, Ohio, with a network of more than 750 branches and more than 1,500 ATMs across six Midwestern states. Founded in 1866, The Huntington National Bank and its affiliates provide consumer, small business, commercial, treasury management, wealth management, brokerage, trust, and insurance services. Huntington also provides auto dealer, equipment finance, national settlement and capital market services that extend beyond its core states. Visit huntington.com for more information.
About FlintNOW
The FlintNOW Foundation (www.FlintNOW.org) was created by Tom Gores, Chairman and CEO of Platinum Equity (www.platinumequity.com) and owner of the Detroit Pistons, to provide private sector support for immediate relief efforts during the water crisis in Flint, Michigan, and for long-term programs focused on economic development, nutrition and health care for residents of the city.