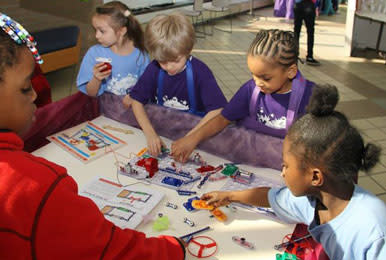 Afterschool Program Gets Attention for 'Making' Curriculum, Community Partnerships
(FLINT, Mich., Jan. 22, 2015) – A few years ago, YouthQuest Director Sharri Newman came away from a national afterschool conference having just learned about an emerging concept in education: "Making." Next week, the student becomes the teacher.
Newman will take the stage to co-present "Making: Understanding the Connections to Learning" during the 2015 Meeting of the National Network of Statewide Afterschool Networks on Jan. 27-29 in Dallas.
She is program director of YouthQuest, a comprehensive, free afterschool program that serves more than 2,000 K-12 students in 18 schools in Flint & Genesee. YouthQuest is administered by the Flint & Genesee Chamber of Commerce.
"Sharri brought back the concept of 'Making' and immediately put it to use in our YouthQuest program throughout Flint & Genesee," said Rhetta Hunyady, Vice President of Education for the Flint & Genesee Chamber. "Not only have our local students benefitted immensely from this in our STEM and DIY clubs, but now YouthQuest is serving as a national model for afterschool programs implementing Making into curriculum.
"Sharri will present alongside national experts during this conference. Come next week, afterschool leaders across the nation will hear of the great success we've had right here in Flint & Genesee."
Nearly all 50 states will send delegations to the national conference. Joining Newman in the Michigan group will be Mike Wright, Informational Services Manager for the Charles Stewart Mott Foundation.
Wright and Newman will co-present the "Making" learning session with Bronwyn Bevan, Director of the Institute for Research and Learning at the Exploratorium in San Francisco, and Ellen Lettvin, a Robert Noyce Fellow in Informal STEM Learning for the U.S. Department of Education.
Making – also called "tinkering" – is essentially playing with a purpose, Newman said. It allows young people to make, and, by making, build confidence, foster creativity, and spark interest in science, technology, engineering and math (STEM) and the arts — and learning as a whole.
"The great success of Making comes in the fact that students don't know they're learning," Newman said. "Whether it's at one of our YouthQuest sites here locally or at the annual Maker Faire in Detroit, the kids get in and start creating and having fun. Yet the information sticks. It's beautiful to see."
It's also encouraging to see the community connections and partnership made through Making, Newman said. The concept of Making providing communitywide benefits is a reason YouthQuest was chosen to present at the Dallas conference.
"We will share information about the YouthQuest curriculum, but also look at the bigger picture – how YouthQuest has formed community partnerships," Newman said.
"Kettering University faculty help with the professional development of our staff now, and we take the students there for on-site learning. The Mott Fab Lab is a fantastic resource for our students. We teamed with the Goodrich High School Robotics Team for our ArtQuest event. I could go on and on."
It's exciting to share with other afterschool programs across the nation, Newman said, but she's especially eager to get in front of the legislators and policymakers who will be in attendance.
"Afterschool programs need the funding to incorporate all these wonderful concepts and tools into their curriculum," Newman said. "But they have to be convinced of the importance of what we're trying to accomplish. I'm happy to have the opportunity to do this."
For more information about YouthQuest, contact Newman at snewman@yquest.org or visit http://www.yquest.org/.
About YouthQuest
YouthQuest is a high-quality, research-based afterschool program offering educational and enrichment activities that engage young minds. Available at 15 sites in the city of Flint and Genesee County, YouthQuest serves 2,000 students in grades K-12 each year. The program is administered by the Genesee Area Focus Fund, a supporting organization of the Flint & Genesee Chamber of Commerce, with support from the Charles Stewart Mott Foundation and 21st Century Community Learning Centers. For more information, visit www.yquest.org.